Obama hints NYPD Commissioner Kelly could head Homeland Security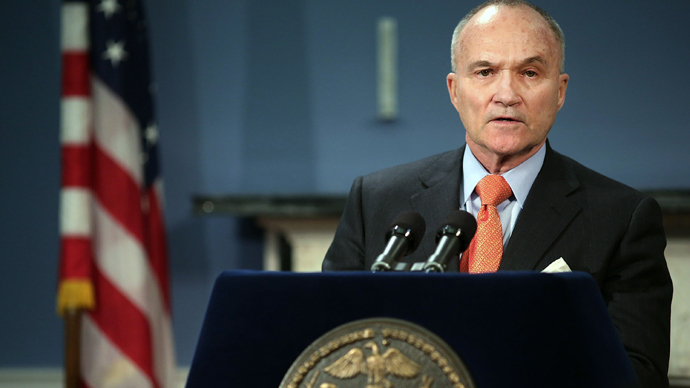 President Barack Obama hasn't officially endorsed anyone just yet to be the next head of the Department of Homeland Security, but he isn't ruling out New York City Police Commissioner Ray Kelly.
Less than a week after Sen. Chuck Schumer (D-New York) suggested that Kelly could fill the shoes of outgoing DHS Secretary Janet Napolitano, President Obama said in an interview Tuesday with New York's Univision affiliate that he doesn't disagree.
Following praise from Sen. Schumer, Mr. Obama said Kelly would be "well-qualified" to head the Homeland Security department and "is one of the best there is" and "an outstanding leader in New York."

The president stopped short of saying he'd be doing Kelly any favors, though, adding that the commissioner "might be very happy where he is." Kelly, 71, has been commissioner of the New York City Police Department under Mayor Michael Bloomberg since 2002 and previously held that role for two years in the early 90s. A Vietnam War vet, Kelly also spent two years in the administration of former president Bill Clinton as undersecretary of the Treasury for Terrorism and Financial Intelligence.
The position of Homeland Security secretary has been held by Janet Napolitano since 2009, but last week she announced that she is leaving that role to take on a new position as the head of the University of California school system.
"The opportunity to work with the dedicated men and women of the Department of Homeland Security, who serve on the frontlines of our nation's efforts to protect our communities and families from harm, has been the highlight of my professional career," she said upon announcing her resignation.
Days after Napolitano's statement, Sen. Schumer issued a statement saying, "Ray Kelly is the man for the job – New York's loss would be [the] nation's gain."
"There is no doubt Ray Kelly would be a great DHS Secretary, and I have urged the White House to very seriously consider his candidacy," Schumer said. "While it would be New York's loss, Commissioner Kelly's appointment as the head of DHS would be a great boon for the entire country.  Janet Napolitano has done an outstanding job, and if I had to give her a grade on her tenure, it would be 'A+'.  We need someone just as good who can fill her shoes," Schumer added.
Kelly has not announced any intentions to throw his hat in the ring, but the president's latest comments suggest an application filed by the current NYPD commissioner at DHS headquarters wouldn't go unnoticed. Meanwhile, Kelly has also garnered the support of another longtime lawmaker, Rep. Peter King (R-New York).
"The NYPD has more than 50,000 officers and civilians, he has the largest counter terrorism force in the country, he previously worked in Washington as the head of customs which is an integral part of Homeland Security," Rep. King said of Kelly.
Kelly would be bringing with him to Washington a lifetime of public service which began with a stint as a combat soldier in the Vietnam War in the early 60s. He's received a number of accolades offered by the NYPD and the city itself, but his tenure hasn't gone without criticism either. During the Occupy Wall Street protests that occurred in late 2011, residents of the Big Apple made a number of calls asking for Kelly to resign amid violent clashes between NYPD officers and peaceful demonstrators. He has also been at the center of scandals involving the department's questionable surveillance practices used to target Muslim citizens and the stop-and-frisk program that has brought a handful of lawsuits to the city over the years.
Should Kelly want to stay in New York, there might be options for him there as well. Last year former Staten Island Borough President Guy Molinari said, "We would like to see him think more seriously about running for top office," and urged Kelly to seek to replace Bloomberg with his third and final term as mayor expires early next year.