NYC cops attack OWS protesters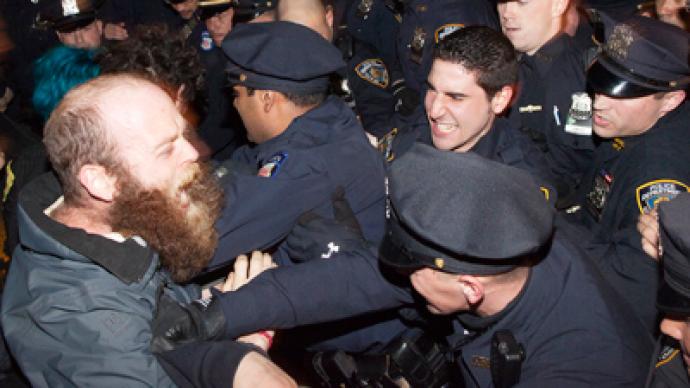 Police rushed a crowd of OWS protesters near Union Square Park in Manhattan early on Wednesday, shoving and attacking people. Activists report a woman was badly injured after officers grabbed and threw her to the ground.
The officers, some in riot gear, were trying to force out Occupy protesters and homeless from the sidewalk after police had barricaded and closed the public city park, usually open-24-hours a day.Activists said about 500 people came out near the park late on Tuesday. Protesters went face-to-face with police, chanting "Who do you serve? Who do you protect?"Police reportedly filmed the activists' faces, which caused some to tweet about the need for bringing bandanas or masks for those arriving to "reinforce" the protest. From one to four people were arrested, according to various sources.Officers also blocked subway entrances to prevent any protesters from escaping. There were reports on Twitter that WiFi service was cut from the Union Square area.Police left the area at about 5 am local time and protesters started to return to the park, saying "goodbye" to police. The park officially reopened shortly after.The protest comes after a rally the Occupy Wall Street protesters held on Tuesday calling on New York City's Police Commissioner Ray Kelly to resign. Occupiers claim the officer "authorized brutality and extreme abuse of police power."The rally was inspired by Saturday's re-eviction of Liberty Square in lower Manhattan and mass arrest of at least 73 Occupy protesters. Many activists have described Saturday's events as one of the most violent police crackdowns since the movement against US government financial policies and what they call "financial greed" began in September.
You can share this story on social media: