​NYPD retirees claimed 9/11 trauma to defraud disability program of millions - prosecutor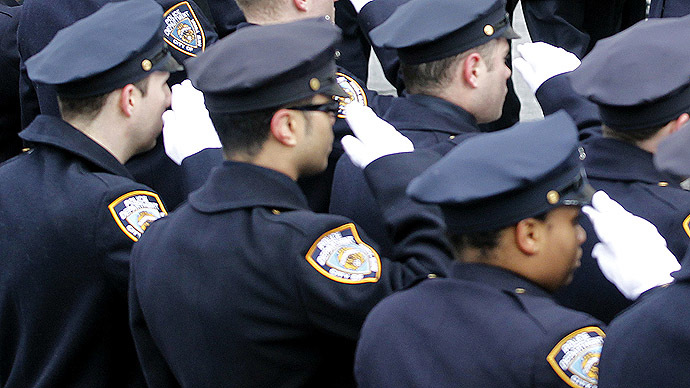 Over 100 retirees, most of them former New York City Police Department employees, were charged Tuesday with defrauding a federal disability program of tens of millions of dollars in a wide-ranging swindle that officials say implicates hundreds more.
Manhattan District Attorney Cyrus Vance Jr. said an indictment was filed Tuesday against 106 defendants, including 80 police and fire department retirees and four individuals alleged to have masterminded plans for others to improperly access benefits.
Prosecutors revealed the results of a decades-long investigation that had turned up hundreds of millions of dollars in fraudulently-paid benefits through the federal Social Security Disability Insurance Benefits (SSDI) program.
Many defendants lied about having post-traumatic stress disorder or depression from the attacks of September 11, 2001, authorities said.
"For years, federal taxpayers unwittingly financed the lifestyles of the defendants charged today," Vance said in a statement. Scammers "cynically manufactured" mental illness conditions, "dishonoring the first responders who did serve their city at the expense of their own health and safety," he said.
The alleged scam, run by the four primary defendants from January 1988 to December 2013, has implicated as many as 1,000 individuals and $400 million in federal disability benefits, prosecutors said. Retiree applicants took the fraudulent disability pay in addition to their public pension income.
Of the 102 secondary defendants also receiving public pensions, 72 are former members of the New York Police Department, eight from the New York City Fire Department, five from the New York Department of Correction and one from the Nassau County Police Department.
The four principal scammers are attorney Raymond Lavallee, 83, a former assistant district attorney for Nassau County (New York) and FBI agent; pension consultant Thomas Hale, 89; detectives union official John Minerva, 61; and retired NYPD officer Joseph Esposito, 70. All of them reside in New York State.
All four of the men are charged with first- and second-degree grand larceny and second-degree attempted grand larceny.
Two of the prime defendants would coach applicants in how to describe and fake symptoms to recruited doctors, fail memory screenings and sell aspects of mental illness, Vance said.
When asked about charges against any doctors who may have aided the hoax, Vance told reporters, "This investigation very much continues."
The 205-count indictment indicated Espositio had recruited most of the defendants, and Minerva brought in the rest. The pair would direct applicants to Lavalee and Hale to submit the disability claims. Once claimants received retroactive SSDI program money, the deal required them to pay one-time-only "secret kickbacks" to Esposito or Minerva, prosecutors said, ranging from $20,000 to $50,000. The money would then be transferred to Hale and Lavallee.
Prosecutors estimate the average schemer involved in the plot garnered an average of $30,000 and $50,000 per year for their claims of serious psychiatric disorders.
Those joining the scheme had to claim they were unfit to work to collect the Social Security disability benefits. Yet authorities say many of the defendants had employment during the scam.
Vance's office revealed Tuesday photos of many defendants enjoying outdoor sports, traveling, driving and other activities despite telling doctors of horrible, often incapacitating mental disabilities. Many defendants claimed they could not use a computer, but many had social media pages, authorities said.
Investigators said they were tipped off to the fraud once some defendants claiming to have severe mental illness began applying to for gun permits.
"They were submitting applications to the Social Security Administration that they were incapable of of holding firearms and shouldn't be issued firearms," NYPD Chief of Internal Affairs Charles Campisi said. "However, when we dug deeper and looked at forms they filed with the Police Department to get pistol permits they indicated they were of sound mind and legally could possess this permits."
Nearly $21.5 million in benefits were wrongly paid thus far, investigators said.
"This exploitation, combined with the fact that many of those indicted formerly held positions of public trust, make these crimes all the more egregious," Edward J. Ryan, of the US Social Security Administration, said in a statement.
New York City Police Commissioner William J. Bratton said indicted NYPD retirees had "disgraced all first responders who perished during the search and rescue efforts on Sept. 11, 2001, and those who subsequently died from 9/11-related illness."
Minerva's attorney said his client will be "cleared," calling him a family man looking to help others.
"He was just a gentleman who was trying to assist other officers in obtaining their Social Security," attorney Glenn Hardy told Newsday. "He was following the protocols that he thought were correct."
Hardy added, "he's led a peaceful, exemplary life. He's never been arrested."
None of the other main defendants' attorneys had any immediate comment.
You can share this story on social media: