NYPD urging New Yorkers to update their iPhones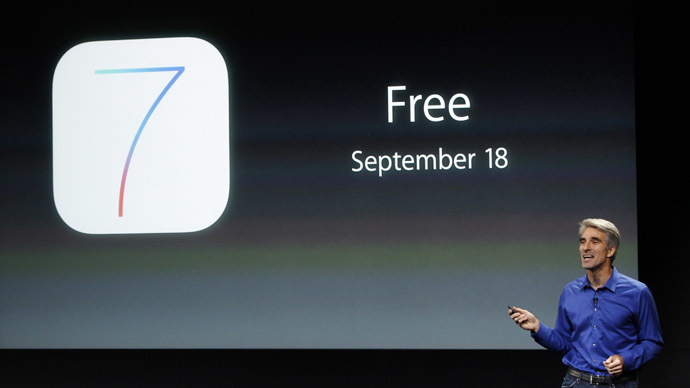 Next time you encounter a line at the Apple Store that's just entirely too long, take it outside and let New York City's boys in blue tackle your technological troubles.
The New York Police Department isn't exactly dishing out free trouble-shooting advice when it comes to malfunctioning MacBooks and iPads, but they are encouraging Apple customers to update the operating system that powers their iPhones to the latest version.
NYC residents have spotted NYPD officers out in droves near Apple stores in recent days, handing out literature that lectures about the new iOS7 operating system and its security features.
"By downloading the new operating system, should your device be lost or stolen it cannot be reprogrammed without an Apple ID and password," the flyer reads.
Four uniformed NYPD officers were at my subway stop tonight asking me to upgrade to iOS 7. Not a joke! pic.twitter.com/CGdR2RqtKJ

— Michael Hoffman (@Hoffm) September 21, 2013
The pamphlet also urges iPhone owners to register their devices with the NYPD's Operation Identification Program and provides contact information for one cop specifically working towards combating mobile phone theft.
And while the NYPD aren't wrong to encourage New Yorkers to update their devices to include the latest crime fighting tool, the free advertising for Apple's operating system is raising eyebrows of residents weary of a growing partnership between law enforcement and private enterprise.

Apple and the NYPD are touting the new iOS because the latest version of the operating system makes it so anyone who's acquired a lost or stolen device can't reprogram it unless they posses the unique ID and password registered to its rightful owner.
According to Apple, the Activation Lock feature can "help you keep your device secure, even if it is in the wrong hands, and can improve your chances of recovering it. Even if you erase your device remotely, Activation Lock can continue to deter anyone from reactivating your device without your permission."
It's no surprise that the NYPD would want to take steps towards securing phones. iPhone theft is so serious in New York that the NYPD told WABC earlier this year that Apple product crime was up 40 percent compared with the previous year. Apple theft — or "apple picking" as it's quickly becoming known — accounted for 14.4 percent of major crimes in New York, AppleInsider reported, and over 11,000 incidents were recorded by the NYPD during just the first three quarters of last year.
"The theft of Apple phones and other hand-held devices drove the spike in robberies and larceny," Police Commissioner Raymond Kelly told the ABC affiliate in February. "Operation ID will help those whose property is lost or stolen to get it back."
During a bust this past May, the NYPD located more than 400 stolen iPhones inside a single home.
At the same time, the hand-in-hand cooperation between law enforcement and the company that's essentially collecting the most private of personal information from millions of Americans is making others unsure if upgrading operating systems is the way to go.
United States Senator Al Franken (D-Minnesota) wrote Apple this week to voice his concerns about the TouchID system, a new security feature on the iPhone 5S that uses biometric fingerprint data to supposedly keep devices secure.

"If someone hacks your password, you can change it — as many times as you want. You can't change your fingerprints. You have only ten of them. And you leave them on everything you touch; they are definitely not a secret," he said.
"What's more, a password doesn't uniquely identify its owner — a fingerprint does. Let me put it this way: if hackers get a hold of your thumbprint, they could use it to identify and impersonate you for the rest of your life," added Franken.