NYC court rules 'stop and frisk' policy unconstitutional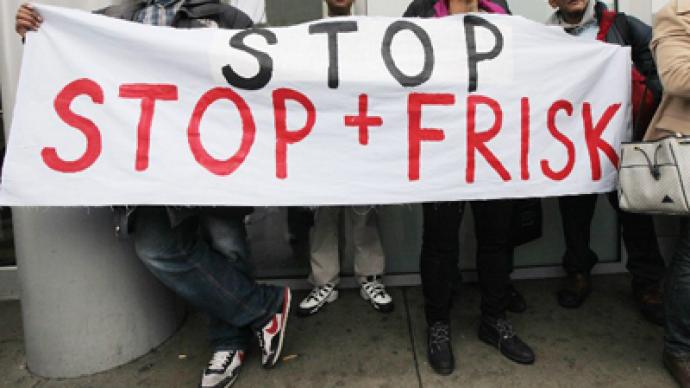 In a victory for civil rights advocates, a New York City judge has deemed an important part of the city's controversial "stop and frisk" program unconstitutional. The program has long been criticized as an illegal abuse of law enforcement.
Manhattan Federal Court Judge Shira Sheindlin ordered New York's police to end their policy – part of the city's "Clean Halls" program – of stopping people outside residential apartment blocks and subjecting them to random search. "Clean Halls" exists only in New York's generally impoverished Bronx section, which contains some of the most dangerous neighborhoods in town. "While it may be difficult to say when precisely to draw the line between constitutional and unconstitutional police encounters such a line exists, and the NYPD has systematically crossed it when making trespass stops outside buildings," Scheindlin's ruling reads.The New York Civil Liberties Union (NYCLU) argued in the case that "Clean Halls," despite being billed as a preemptive crimefighting method, generally leads to Bronx residents being harassed, and sometimes even detained, near their place of residence for no reason.The NYCLU's case centered on Jaenean Ligon, a Bronx teen stopped and searched by four police officers – two of them undercover – as he left his building to buy groceries for his mother in summer 2011. When police contacted Ligon's mother to verify that he had a reason to be on the block, she feared he was in serious trouble or had been killed. NYCLU lawyers argued that Ligon's experience with "stop and frisk" is a normal one in higher-crime areas of the city. Civil rights advocates including the NYCLU have long been vocal in their criticism of "stop and frisk" and "Clean Halls." Statistics released by the group in 2011 showed, for example, that the number of young black men stopped as part of "Stop and Frisk" was actually greater than the total number of young black men living in the city. 
Reasons New York cops are allowed to make random stops under "stop and frisk" include "inappropriate attire off season" and "furtive movements." Until recently, police could randomly stop taxis to search passengers.And though the NYPD has claimed that the program has stopped New Yorkers from carrying guns on the city's streets, NYCLU statistics show that though the annual number of random stops has increased by nearly 525,000 since 2003, only 176 more guns have on average been found. Judge Sheindlin's ruling was compounded by an order for a January 31 hearing on what other measures might be taken to clean up "stop and frisk" and "Clean Halls."  "For those of us who do not fear being stopped as we approach or leave our own homes or those of our friend and family, it is difficult to believe that residents of one of our boroughs live under such a threat," she wrote.
You can share this story on social media: