Thousands march against NYC's controversial 'stop-and-frisk' policy (PHOTOS)
Published time: 18 Jun, 2012 03:31
Edited time: 18 Jun, 2012 08:07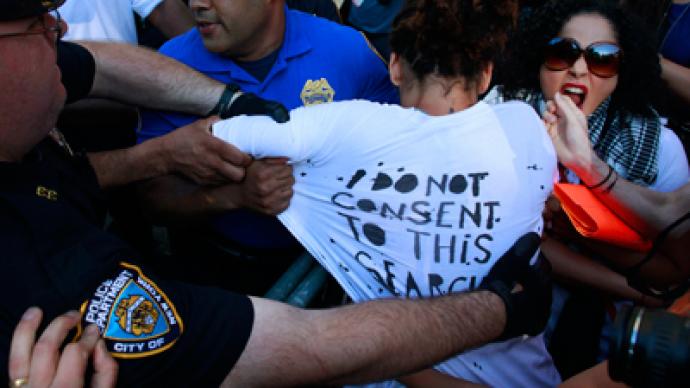 Several thousand demonstrators have joined a silent march down New York City's Fifth Avenue to show their defiance of NYPD's controversial "stop-and-frisk" policy, which they say discriminates against the city's black and Latino communities.
The march was quiet and peaceful as protesters from civil rights groups slowly walked along Central Park from Harlem to the house of New York mayor, Michael Bloomberg. However, the march ended with at least three arrests after several scuffles between activists and police officers.
New York police frequently stop and frisk individuals it considers suspicious. Last year they stopped more than 685,000 people, mostly black and Hispanic young men, according to the New York Civil Liberties Union (NYCLU). Critics say this often results in discrimination against law-abiding citizens.
Members of labor unions and the National Association for the Advancement of Colored People (NAACP) walked along with Occupy movement activists, students, religious groups and anti-war activists. Marchers carried banners and posters bearing slogans such as "End stop and frisk" and "Stop racial profiling."

"We are black, white, Asian, LGBT, straight, Jewish, Muslim and Christian," New York City Council member Jumaane Williams said before the march began, AP reports. "Mayor Bloomberg has been our great uniter. We've been screaming loudly, and he hasn't heard us, but hopefully he'll hear the deafening silence."
Bloomberg has defended the city's policy, saying that it helped "take guns off the streets and save lives."
But the NYCLU states that during frisks in 2011, a weapon was found just 1.9 per cent of the time. According to The New York Times, even in overwhelmingly white neighborhoods, police stopped more blacks than whites.
"Stop-and-frisk is a political tool, victimizing one group of people so another group feels protected," Benjamin Todd Jealous, the president of the NAACP, said as quoted by The New York Times. "It's humiliating hundreds of thousands of people."
Rev. Al Sharpton and community leaders march during a protest in New York (Reuters / Eric Thayer)
Demonstrators prepare to march during a protest in New York (Reuters / Eric Thayer)
Demonstrators march during a protest in New York (Reuters / Eric Thayer)
(Reuters / Eric Thayer)
(Reuters / Eric Thayer)