Wanted: Jewish group offers $5,000 for information on 'knockout' attackers
Published time: 6 Dec, 2013 21:34
Edited time: 6 Dec, 2013 21:44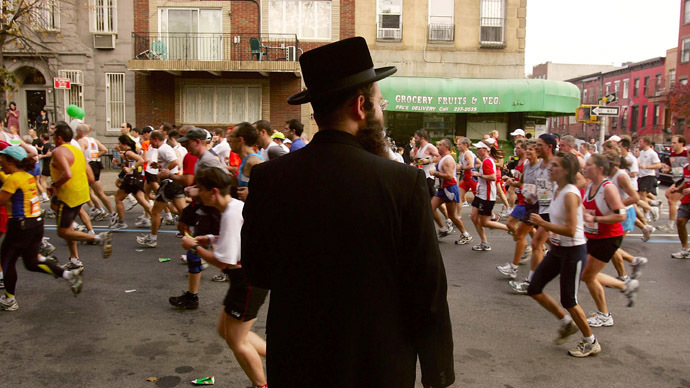 ​Leaders of the New York City Jewish community are calling for the capture of participants involved in the recent rash of violent "knockout" assaults, and are offering a cash award for information leading to their arrest.
The Jewish Community Relations Council of New York (JCRC-NY) announced this week that they're willing to pay upwards of $5,000 to anyone who can assist local law enforcement to stop the wave of attacks, which have made national headlines in recent weeks and spawned a trend of similar assaults across the country.
Authorities say youths in New York and elsewhere have been increasingly participating in these games of "knockout," in which groups are reported to spontaneously flock and then assault their victim with the intention of taking them to the ground in a single punch.
A disproportional number of the incidents in New York have reportedly targeted Jewish residents of Brooklyn and other boroughs, and the JCRC now hopes they can drive the rate of these altercations down by offering an award.
"These attacks have dislodged the sense of safety and security that most New Yorkers feel when they walk our streets," JCRC CEO Michael S. Miller said in a statement published on Wednesday. "The cowardly assailants often prey on the most vulnerable: Jews and Christians, blacks and whites. There have already been arrests. We want to give the NYPD an additional tool to stop these crimes as quickly as possible."
The statement claims that the group will offer an award of $5,000 for information leading to the arrest and conviction, or a finding of delinquency, of a knockout participant.
The New York Police Department has been investigating the assaults there since they increased in frequency several weeks ago and are treating at least one related case as a hate crime. With incidents still occurring, though, the city's Jewish community is now looking inward for assistance.
"The Hate Crimes Task Force has some of the finest investigators in the NYPD, who are employing every resource available to arrest those responsible. We offer this reward in order to help make the streets safe for all New Yorkers," the JCRC said in this week's statement. The group is asking New Yorkers to call the NYPD Crimestoppers tip-line if they'd like to provide any information.
Earlier this week on Monday, officials in Brooklyn announced that they'd be extending a separate award of $1,500 for any information on knockout participants as well. Additionally, Brooklyn Councilman David Greenfield is urging the NYPD to install new security cameras in his borough to better deter crime.
"Given the random nature of these attacks and the lack of witnesses, security cameras may be our best chance of making arrests in these disgusting crimes," Greenfield told The Jewish Week of New York. "In light of the ongoing rash of assaults that have left many residents frightened to walk around our neighborhood alone, I am asking the NYPD to move forward on the installation of these security cameras as soon as possible."