Teen gangs accused of playing 'Knock out the Jew' in Brooklyn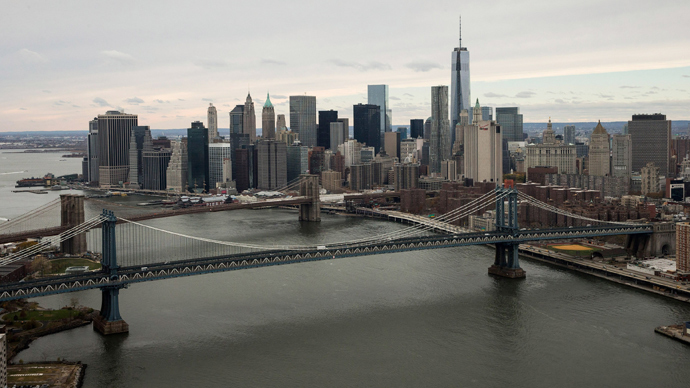 A rash of violent anti-Semitic attacks in Brooklyn, New York recently left a local rabbi wondering if the wave of assaults is part of a game of "Knock out the Jew."
Those were the words that Rabbi Yaacov Behrman had for CBS New York this week when he weighed in on a string of recent incidents that have taken Brooklyn by storm.
The CBS affiliate reported that the New York Police Department is now investigating the series of crimes - at least one of which was captured on a surveillance camera.
In that incident, Behrman said a local Jewish man was sucker-pushed solely because of his ethnicity.
"He was actually holding an expensive camera. And they punched him and nothing was stolen," he told CBS. "And they're playing a game: 'knockout.' 'Knock out the Jew,' maybe. And they're going around the neighborhood punching Jews."
The NYPD has confirmed that assaults aimed at Jewish men in New York City have indeed taken place as of late, and are aware of anti-Semitic graffiti as well, such as spray-painted swastikas added to area sidewalks.
"I think there have been a total of eight since September, middle of September," Police Commissioner Ray Kelly said in reference to the total number of incidents that have recently taken place in Brooklyn. 
Local Jewish men say it's not just a coincidence that certain people are being targeted, though. Such allegations have prompted the NYPD to investigate whether the incidents in Brooklyn's Crown Heights neighborhood were hate crimes.
"It is difficult to tell [if it is a pattern] at this time," Kelly said, according to the Gothamist. He added that the NYPD's Hate Crimes Task Force has indeed taken the helm of the investigation. "Obviously, some of it is based on descriptions. The crowds change in size, so it's hard to tell if it is a clear pattern."
Brooklyn assemblyman Dov Hikind told CBS that these attacks aren't muggings, though, and that he thinks victims are being attacked just because they are Jews.
"Unacceptable. And that's exactly what the situation is right now," Hikind told NY1.
Police are currently scouring surveillance camera footage to investigate the incidents, and witness statements so far suggest a high likelihood of hate crimes being committed. In one incident profiled by the CBS affiliate, a 12-year-old boy dressed in traditional Jewish clothing was recently hit "on the side of the face, full force" by a local teen, according to the victim's father.
"The two attackers ran back to the group screaming, 'We got him' and received a roaring cheer," Behrman told New York Daily News.
As recently as last weekend, a group of black males allegedly attacked a Jewish resident during an unprovoked incident in which Behrman again said nothing was stolen. That incident was captured on camera as well, but as events like this continue, residents are worried that little is being done.
"When I heard of an incident that may have been a bias crime, be it religion, ethnicity or sexual orientation, we need to come together as a community to say no we're not going to tolerate this anymore," district leader Jeffrey Hamilton told WABC.
"We are extremely disappointed" that no arrests have been made, Behrman said. "We call on the NYPD to increase their efforts, to include larger police presence during prime hours and to distribute posters with identifying information to insure the perpetrators are brought to justice."

Outside of Israel, New York has the largest Jewish population in the world.