NYC court unable to find impartial jury to decide Occupy Wall Street trial
Published time: 11 Apr, 2014 03:49
Edited time: 11 Apr, 2014 03:58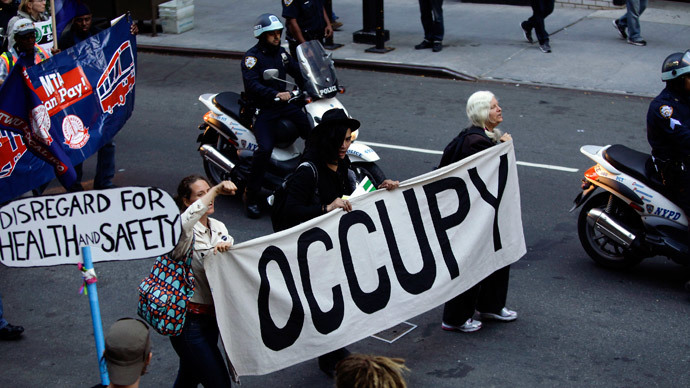 An Occupy Wall Street protester facing seven years in prison for an alleged 2012 assault may wait even longer to hear her fate as New Yorkers have proven to be so divided on the issue that finding impartial jurors has so far been nearly impossible.
Jury selection in the trial of Cecily McMillan began on Monday but has gone on longer than anticipated because attorneys on both sides of the case have been unable to agree on a juror pool willing to approach the case with a fresh perspective. The trial is the last criminal trial relating to the Occupy Wall Street protests in New York.
McMillan, 25, is charged with assaulting a police officer during a March 17, 2012 protest in lower Manhattan's Zuccotti Park. Prosecutors are expected to argue that McMillan intentionally assaulted Officer Grantley Bovell when he was making arrests at the demonstration. The young woman has maintained that she was unaware Bovell was a police officer and that she was only trying to fend off a man who grabbed her breast from behind.
Occupy Wall Street began on September 17, 2011 with a small encampment in the heart of New York City's financial district. The movement quickly multiplied, attracting demonstrators from throughout the world who rallied around the idea that the wealthiest one percent of the population had for too long taken advantage of the other 99 percent.
The "We are the 99%" slogan immediately made headlines and inspired countless other protests around the US and elsewhere in the world.
For all the talk about income inequality, though, the left-leaning Occupy movement has been as divisive as the Tea Party, its rival counterpart on the right. Nowhere was that divide more evident than in the movement's birthplace, where bankers, lawyers, and executives walked past Occupiers' tents and signs on their commute into offices located dozens of floors above.
That tension lasts through today, with prosecutors and defense attorneys quickly filing through prospective jurors for the McMillan trial. Alan Moore, one potential juror, told the court his wife worked on Wall Street as a bond strategist, so it would be difficult for him to judge McMillan's actions with a clear lens.
"I like to think of myself as fair," he said, as quoted by the Guardian, which first reported on the dilemma. "But in terms of Occupy Wall Street in general, I would give less credibility to that group than average…They seem to be people moving a little outside regular social norms and regular behavior. Therefore I don't give them the same level of respect as people who follow the line."
The notion was shared by many. The court hoped to fill the 12 juror seats by Monday's end, although they were only able to fill seven of those seats by the time Tuesday came to a close.
"For 20 years, my occupation has been, in some fashion, on Wall Street," said equity trader Jason McLean, who lives with his wife, also an equity trader, in the Murray Hill neighborhood of New York City. "Everything I believe – my morals – are kind of the antithesis of what they represent. I don't know that I could be completely objective."
Other possible jurors were excluded after reporting negative experiences with police in the past. Patrick Grigsby, who works as an actuary on the Upper West Side, was expelled when he admitted that learning Officer Bovell had been disciplined as part of the so-called "Bronx ticketing scandal" of 2011 would impede his view of the incident in question.
Martin Stolar, McMillan's attorney, told the Guardian both he and his client are confident that the two sides would eventually "find the people who fit the profile" of impartiality. His co-counsel Rebecca Heinegg agreed.
"A surprising number of people are actually willing to say they can't be fair," she said.
The defense team previously told journalist Jon Swaine that McMillan was a frequent visitor to Zucotti Park and known for her peaceful disposition. She had brought a friend down to visit for a St. Patrick's Day celebration on the day when the incident with Bovell occurred. The young woman had bruises on her back, head, feet, and breasts that the defense says were incurred when Bovell assaulted her.
"An innocent woman is being accused of something that could send her to prison for seven years," Stolar said outside a previous hearing in Manhattan. "She was leaving the park pursuant to the police department's orders when she was brutally assaulted by a police officer and subsequently accused of assaulting that police officer."
The prosecution, perhaps unsurprisingly, disagrees. A criminal complaint obtained by the New York Times claims that Bovell suffered "swelling and bruising and substantial pain to his left eye" in the confusion.
Jury selection is scheduled to resume Friday.