#Reoccupy the world: WaveOfAction sweeps the globe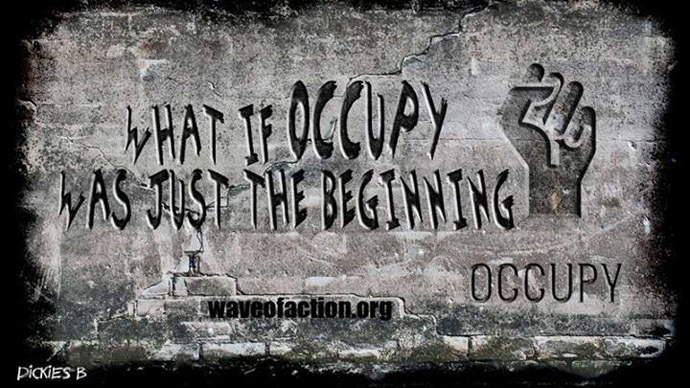 Anti-corruption activists launched a three-month campaign at hundreds of former Occupy locations to kick off their own '#GlobalSpring' of social, economic and political reform.
The crowd sourced campaign will officially begin at approximately 16:00 GMT on Friday and is set to conclude in the heart of summer, on July 4th.
"On April 4th, there will be launch celebrations at hundreds of former Occupy locations globally. We will honor Dr. Martin Luther King's legacy of nonviolent action and spend the day connecting with allies and strategizing spring action campaigns," an event organizer says in a statement.
As has become part and parcel of the Occupy movement, the group is low on concrete demands, saying that the campaign "will become what you, the people, make of it, self-organizing and organically evolving, a new culture will emerge."
Whatever you are doing to #BeTheChange on April 4, get it on video & put #WaveOfAction in the title. Let's show the world what we stand for!

— Wave of Action (@WaveOfAction) April 4, 2014
The campaign hopes to reoccupy all the 951 cities across 82 countries, which had seen an Occupy-inspired event at the height of the protest movement. New York City, the epicenter of the original Occupy Wall Street movement, along with London, Sydney, Amsterdam, Seville, Ontario, Johannesburg, Brussels, and LA are just some of the locations slated to take part in the global campaign.
This time around, organizers say 1,518 occupations are planned worldwide.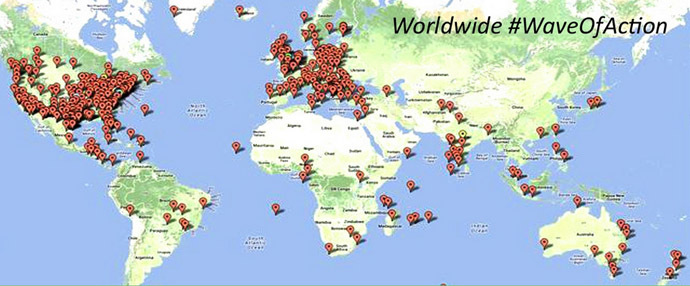 A series of nonviolent tactics "from large-scale mobilizations to small daily acts" will be employed. Those actions include: Mass gatherings, flash mobs, guerilla canvasing, sit-ins, strikes, civil disobedience, strategic defaults, debt strikes, foreclosure preventions, boycotts, 'Anonymous' operations and other forms of online civil disobedience.
Organizers have asked the public the spread the world via Twitter with the hashtags: #WaveOfAction #GlobalSpring #ReOccupy #BeTheChange.
#WaveOfAction of about 100 is now marching to #Zuccotti park @DCMediaGrouppic.twitter.com/xpc5EmZg52

— john zangas (@johnzangas) April 4, 2014
Meanwhile, in Brussels police used tear gas and water cannon to disperse protesters at a trade union rally that turned ugly. Around 15,000 people reportedly took to the streets in a march against austerity and unemployment.
Initially, the trade unions expected to see 40,000 demonstrators rallying in Brussels.
Although Occupy activists have viewed the demonstration and subsequent police crackdown as part of their global day of action, trade union representatives have disavowed any connection with the movement.
On the steps of Federal Hall across from the NYSE on Wall St. #Dream#WaveOfActionpic.twitter.com/EJVKohQp8L

— Jeff Rae (@jeffrae) April 4, 2014
You can share this story on social media: