New York City police and firefighters engage in massive fistfight (VIDEO)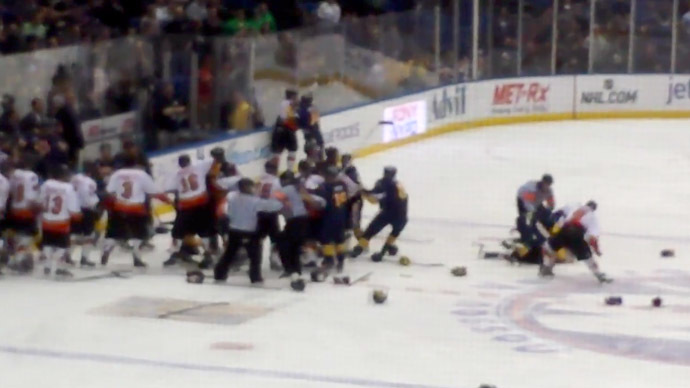 A charity hockey match over the weekend between members of New York City's police and fire departments was momentarily put on hold after a massive brawl cleared the benches of both teams.
Sunday's annual exhibition game was reportedly tied 3-3 during the second quarter when a fight erupted among a small group of players. Referees attempted to intervene, but within minutes the incident escalated quickly and practically every amateur athlete on hand took to the ice to get in on the action.
On the website for the New York City Fire Department Hockey Team, the event was billed as a charity match between the "bravest and finest." Proceeds from the game were advertised as going towards the New York Police and Fire Widows' and Children's Benefit Fund, among other charities.
According to a local Fox News affiliate, the game was delayed for around 25 minutes as the refs made sense of the scuffle and attempted to clear the ice of the dozens of gloves and other equipment that were disregarded during the brawl. Several players were ejected, the station reported, but the game soon after resumed and eventually ended with the boys in blue beating the New York Fire Department by a score of 8-5.
Cell phone footage captured from several audience members in attendance quickly went viral and caused the incident to attract the attention of media outlets in and out of the Big Apple, but representatives for both the NYFD and the New York Police Department declined to immediately respond to post-game questions from the press. By Monday afternoon, YouTube videos of the fight had been viewed online tens of thousands of times.
Sunday's game at the Nassau Coliseum in Uniondale, NY was the forty-first annual match-up between the two teams, and marked the first victory for the NYPD over their rivals in six years.
"No matter the patch, we are all family," the police department's hockey team wrote on Facebook early Monday alongside a post-game picture of team members from both sides shaking hands.