NY declares state of emergency due to 'Polar vortex' winter storm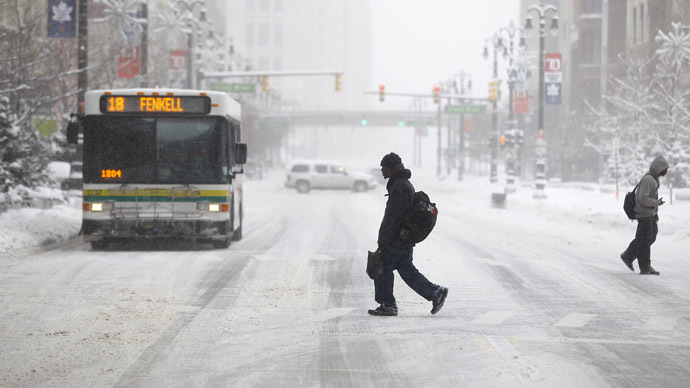 NY governor Andrew Cuomo declared a state of emergency ahead of a major winter storm triggered by the "polar vortex," now sweeping into the eastern US. The state could see as much as 36 inches of snow and wind chills as low as 40 degrees below zero.
Road closures and a health advisory were issued by the state of New York in preparation for what are being described as "life threatening" weather conditions.
"As this new winter storm develops, bringing heavy snow and high winds, I strongly urge all citizens in these regions to exercise caution, avoid travel, and stay indoors," Governor Cuomo said.
The state was mobilizing 300 members of the NY Army and Air National Guard to assist as the storm moved through the region, along with 3,800 field workers available to respond in the event of power failures caused by the icy conditions.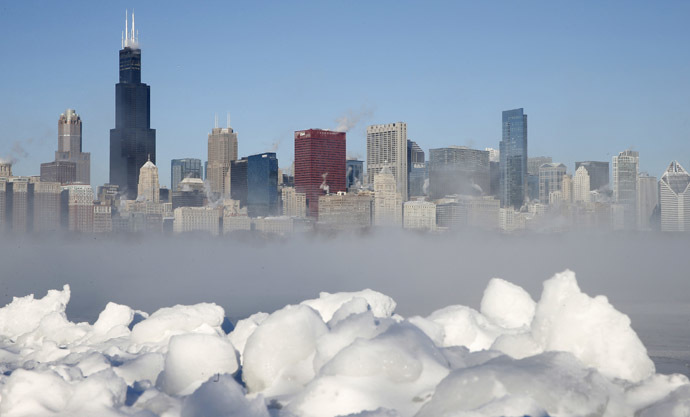 Having already produced frigid conditions in the Midwest, temperatures down the east coast were set to plunge by as much as 40 degrees. States such as Minnesota, though well acquainted with harsh winter seasons, saw wind chill reach 56 degrees below zero in Duluth, while far to the south in Huntsville, Alabama, the temperature dipped to 14 degrees.
The polar vortex effect was so powerful that it was blamed for high winds and huge ocean swells on the southwest coast of Britain, caused by an expansive, deep atmospheric depression over the Atlantic Ocean.
Britain's high waves were "loosely connected to the weather system that caused the U.S winter storm, which dumped large amounts of snow in the Northeast and delayed thousands of flights," reported the AP.
Residents of Indiana and Kentucky were warned not to leave their homes as temperatures dropped into the single digits, and wind chill in the minus 20s and below.
Customers were advised to try and conserve power as the power grid serving 61 million Americans in the Mid-Atlantic, Midwest and portions of the South prepared to cope with the high demand.
In Indiana 40,000 customers meanwhile waited for utility crews to restore power knocked out by the storm, reported the AP.
The record-breaking freeze is being caused by a wavy and elongated jet stream, which is carrying Arctic air far more to the south than normal.
"It's basically the jet stream on a drunken path going around the Northern Hemisphere," said Rutgers University climate scientist Jennifer Francis to Grist.
The large weather phenomenon has also renewed the discussion on the impact of anthropomorphic, or human-induced, climate change.
According to research conducted by Francis, the warming of the Arctic has produced the errant behavior of the polar vortex, which is present each year but usually does not plunge the southern portion of the US into such a freeze. That warming also seems to be producing greater instances of this wavy jet stream phenomenon.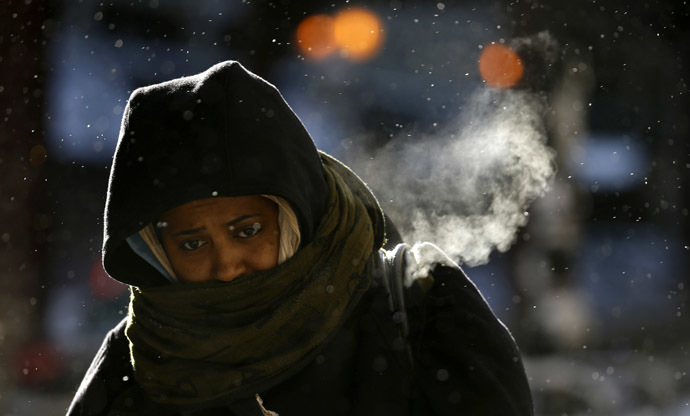 You can share this story on social media: