Bone-chilling 'polar vortex' storm brings Midwest cities to a standstill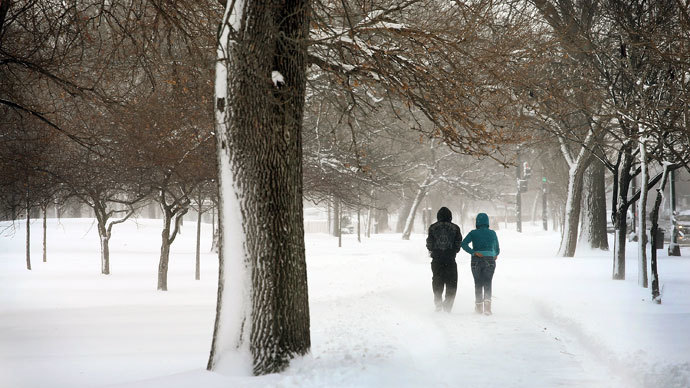 Cities across the US Midwest on Monday are grinding to a halt as a deadly "polar vortex" descends, promising to deliver heavy snowfall and potentially record-breaking cold temperatures.
An Arctic blast of freezing, dense air known as a "polar vortex" was expected to knock down temperatures and affect more than 140 million Americans beginning Monday, with the frigid temperatures made more severe by the wind chill factor, a reading that tells what it feels like outside when wind speeds are taken into account.

The weather forecast for Midwestern states, many of which got buried under snow Sunday, is severe: minus 15 Fahrenheit (-26 Celsius) in Chicago, minus 25 F (-31C) in Fargo, N.D., minus 31 F (-35 C) in International Falls, Minnesota, while northeastern Montana may experience wind chills equivalent to 59 F (-50 C) below zero.

"It's just a dangerous cold," National Weather Service meteorologist Butch Dye in Missouri, as quoted by AP.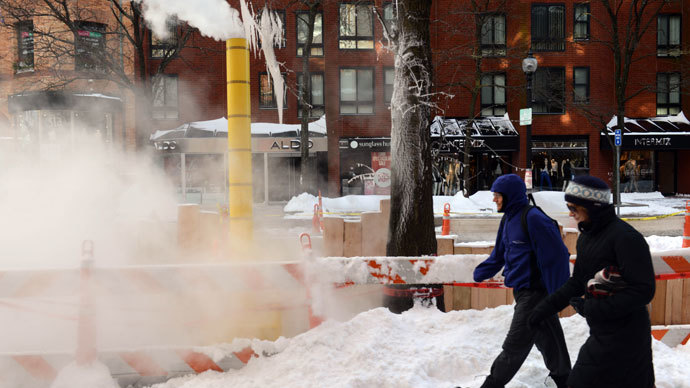 Treacherous conditions have caused a travel nightmare in many states, with many travelers stranded at airports and along icy roads. Around 1,200 flights were cancelled Sunday at O'Hare and Midway international airports in Chicago, as well as cancellations at Logan International Airport in Boston and Tennessee's Memphis and Nashville international airports.

Hazardous conditions forced more than 3,700 flights to be cancelled over the weekend.

"It's not just a snow event, it's a cold event, and that's what scares us," Indianapolis Mayor Greg Ballard said, CNN reported. He urged residents to stay in their homes, especially after nightfall.

The extreme weather has forced school cancellations Monday in many states, including in Wisconsin, Illinois, Indiana, Iowa and Minnesota, where a wind chill of minus 54 F (-47 C) has been predicted.

The severe weather has been blamed for at least 16 deaths so far, including a worker who was crushed by a shipment of rock salt at a Philadelphia storage facility. One person died and two were injured when a passenger jet crashed while attempting to land at Aspen-Pitkin County Airport in western Colorado yesterday. Officials are still attempting to determine the cause of the accident.

At New York's JFK airport, a plane carrying 35 passengers from Toronto plowed into a snow bank as it was taxiing after landing. No injuries were reported, but the incident halted flights at the major international hub for two hours.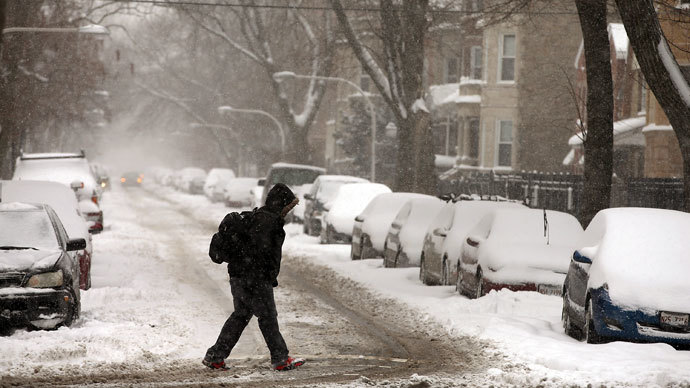 Meanwhile, southern states are also preparing for possible record-low temperatures, with single-digit highs anticipated Tuesday in Georgia and Alabama.

Even in northern Florida temperatures are predicted to drop into the 30s on Tuesday, presenting a potential threat to the state's lucrative citrus crops. Temperatures must be at 28 F (2 C) degrees or lower for four hours straight for fruit to freeze, a spokesman for Florida Citrus Mutual said.
Since much of the country has not experienced such cold for almost two decades, authorities are warning that frostbite and hypothermia can occur rapidly at minus 15 (-26 C) to 30 (-34 C). Officials are warning people to remain indoors if possible, urging people to check on elderly relatives and neighbors.
In many areas, people were crowding stores to purchase last-minute supplies.
In Kentucky, where a 2009 ice storm knocked out power to hundreds of thousands of people, farmer David Nickell was stocking up on essentials, like batteries, gas and food.
"We are hoping this isn't going to be more than a few days of cold weather, but we did learn with the ice storm that you can wake up in the 19th century and you need to be able to not only survive, but be comfortable and continue with your basic day-to-day functions," Nickell told AP.
You can share this story on social media: