NSA collects millions of SMS messages worldwide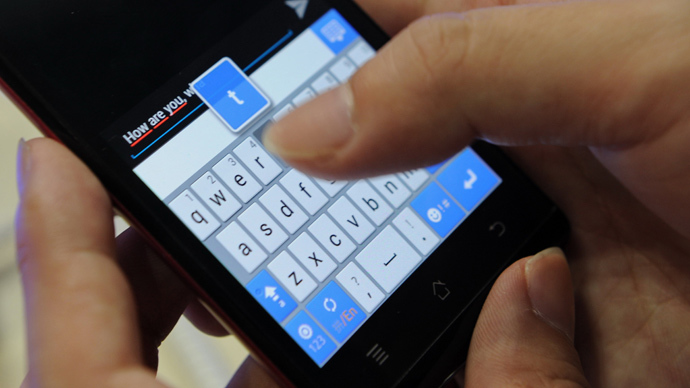 Hours ahead of a speech in which United States President Barack Obama will announce changes to the National Security Agency's surveillance programs, newly leaked documents reveal the NSA collects hundreds of millions of text messages a day.
The results of a joint investigation conducted by Britain's Guardian newspaper and Channel 4 News have revealed that the NSA and its UK sister-agency, the GCHQ, pair two previously unreported and top-secret national security programs to collect in bulk and then analyze millions of SMS text messages and other digital data sent around the world each day by mobile phones.
Edward Snowden, the former NSA contractor who left the US last year with a trove of sensitive intelligence documents, supplied the news agencies with the evidence, both outlets reported on Thursday.
Mr. Snowden, 30, has shared files contained within a cache of pilfered NSA documents with select reporters in the seven months since he first helped reveal that the NSA has in total secrecy been compelling the nation's major telecommunications companies to routinely give up the metadata records of millions of customers daily. Pres. Obama is expected to announce changes to that program during a rare address this Friday.
With only hours to spare, however, the commander-in-chief may now be stuck scrambling to put together an explanation to warrant to the world the latest NSA revelation to be made public by Mr. Snowden.
According to leaked files obtained by the British media, the NSA has been collecting nearly 200 million text messages from the world's cellphones every single day, occasionally using those records to further extract sensitive information such as location data, address book contacts and even financial details.
One program, code-named Dishfire, collects "pretty much everything it can," a documented cited by the Guardian reads. Once that information is logged, another tool known as "Prefer" conducts what the paper calls "automated analysis" of untargeted communication — indicating that even innocent people can have their information queried.
"The spying is not targeted," Channel 4 technology producer Geoff White reported, "meaning millions of innocent people have potentially had their data gathered," and the Guardian says the NSA has made extensive use of the database to get dirt on "individuals under no suspicion of illegal activity."
Combined, the programs do much more though than just eavesdrop on text message conversations.
"The Prefer program uses automated text messages such as missed call alerts or texts sent with international roaming charges to extract information, which the agency describes as content derived metadata,' and explains that 'such gems are not in current metadata stores and would enhance current analytics,'" James Ball, a journalist at the Guardian's New York City office, wrote in his paper's Thursday report.
By extracting that intelligence, Ball continued, the NSA can pull in more than 5 million missed-call alerts each day from the world's cell phones, giving intelligence agents a clearer picture of who individuals, targeted or not, communicate with.
Also accumulated through these programs, the paper added, are automated alerts that let cell phone customers know when they've roamed outside of their network's coverage area, like in instances where a person may cross an international boundary line. The NSA has access to around 1.6 million border crossings a day, Ball wrote, as well as information stored inside electronic business cards and financial transactions conducted via text message. Additionally, the latest Snowden leak indicates that the NSA can extract geolocation data from a large chunk of these messages, giving spy agencies one further tool in being able to track people using the phones in their pockets.
Last month, the Washington Post reported that top-secret documents supplied to them by Mr. Snowden showed that the NSA has been gathering 5 billion records a day detailing the whereabouts of cellphones around the globe. And while the latest leak has unearthed two new programs used to track down cell-based location information, top-secret documents indicate that Dishfire and Prefer provide both the NSA and GCHQ with tools unmatched by any operations previously disclosed.
But whereas other surveillance programs made aware to the world by Mr. Snowden lacked privacy safeguards — as far as many are concerned, at least — the latest operations reportedly sparred American contacts from being collected by the NSA. The documents suggest that US numbers were removed from the database, the Guardian reported, although UK numbers were fully retained. One note in a leaked national security document even acknowledges that all "US-related SMS" are absent from the database.
Vodafone, a UK-centric telecom, told Channel 4 that they are "shocked and surprised" to hear that the NSA and GCHQ have been intercepting the presumably secure communications likely sent by their own customers.
"What you're describing sounds concerning to us because the regime that we are required to comply with is very clear and we will only disclose information to governments where we are legally compelled to do so, won't go beyond the law and comply with due process," the company's chief privacy officer told Channel 4.
"But what you're describing is something that sounds as if that's been circumvented. And for us as a business this is anathema because our whole business is founded on protecting privacy as a fundamental imperative," the rep continued.
According to Channel 4's White, British law mandates that agents at the GCHQ obtain permission before requesting information from UK telecoms. Since call data is collected and stored by the NSA, however, British agents would instead simply submit a request with their American counterparts. That type of arrangement, White added, is not covered by any law in the UK.
British attorney Alex Bailin told White that this gives way to an "enormous loophole" that removes any and all restrictions.
Ahead of Friday's address from the Justice Department headquarters in Washington, DC, it's been reported that Pres. Obama will announce new limits on the NSA's bulk metadata collection program as well as previously disclosed operations shared by Mr. Snowden in which foreign persons were revealed to be targeted by the US intelligence community.
"The entire mission of our intelligence agencies is to collect foreign intelligence without regard to the civil liberties of the targets against whom we're collecting," one former senior intelligence official told the Washington Post this week ahead of the president's remarks.
You can share this story on social media: