Centered on virtually nonexistent voter fraud, North Carolina considers voting restrictions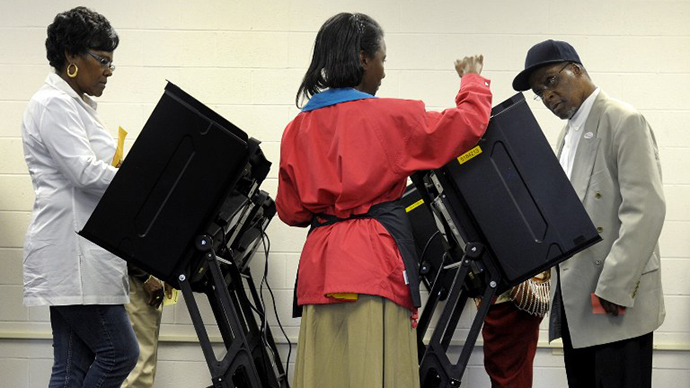 North Carolina lawmakers are considering a new bill that would implement rules to severely restrict young, old, and minority voters from participating in elections.
All told the Senate bill, dubbed HB 59, proposes 22 changes to the existing law. Early voting time would be cut by one week, same-day voter registration – which allowed residents to register before casting their ballot – would be eliminated, and 16- and 17-year-old high school students would be barred from pre-registering to vote in advance of their 18th birthday. 
The most egregious change, critics say, is that the measure would cut in half the number of acceptable photo identification methods allowed by the state House of Representatives. 
The restrictions are possible because of the US Supreme Court's June to decision to void key parts of the Voting Rights Act, a 1965 law considered one of the central achievements of the American Civil Rights Movement. The Court's decision last month effectively did away with the US Justice Department's oversight regarding changes in election law. A recent report found that the Voting Rights Act prevented at least 31 discriminatory laws, much like the one North Carolina is attempting to pass, since 2006.
North Carolina's HB 59 was first discussed before the Supreme Court's ruling on the voting Rights Act but tabled until after the decision. Republican lawmakers claim the changes are necessary to curb widespread voter fraud, though according to Mother Jones an analysis of the last six state elections in North Carolina turned up just two instances of in-person voter fraud.
An editorial in the Charlotte Observer deemed the legislation discriminatory. 
"More than 318,000 registered voters lack a North Carolina photo ID … Unsurprisingly, the photo requirement disproportionately affects blacks. They are 23 per cent of all registered voters but 34 per cent (107,681) of those without a North Carolina photo ID. Whites make up 54 per cent of those without a photo ID," the opinion piece states. 
"Women, too, are disproportionately affected: They make up 54 per cent of voters but 64 per cent of those without a state photo ID. Women are nearly twice as likely not to have an ID – 202,714 women versus 106,713 men. Democrats are nearly three times as likely not to have a photo ID as Republicans." 
Jennifer Rudinger, the North Carolina state president of the American Civil Liberties Union who spoke to Raleigh's WRAL, was among those who called on Congressional leaders to update the Voting Rights Act and protect the rights guaranteed to all voters. 
"With attempts to suppress voting becoming more common and more sophisticated across the country and North Carolina's legislature poised to approve legislation that will make it harder for thousands of eligible state voters to cast a ballot by requiring forms of ID that many North Carolinians lack and cannot easily obtain, the need for such protections is more urgent than ever," she said.