60,000 new power outages as nor'easter Athena slams Sandy-battered US northeast (PHOTOS)
Published time: 8 Nov, 2012 08:01
Edited time: 8 Nov, 2012 12:01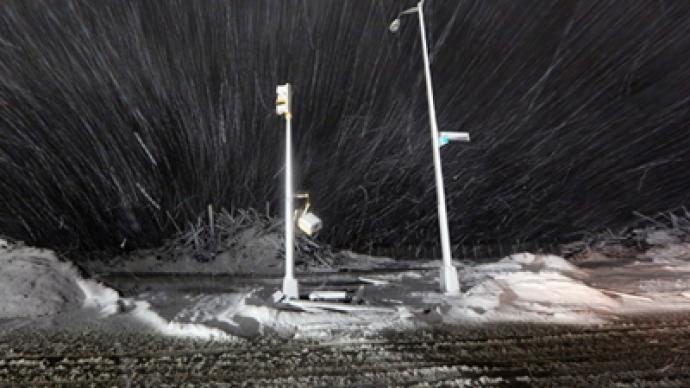 A winter storm has left thousands across the US East Coast without power, adding to the 640,000 already under blackouts after Hurricane Sandy. Residents fear more damage as the storm hits the storm-pummeled northeast with heavy wind, snow and rain.
An estimated 60,000 people lost electricity as the nor'easter, named Athena by the National Weather Service, moved through New Jersey, New York and Connecticut. Residents were urged to evacuate flooded areas on Wednesday night, and the storm is predicted to last well into Thursday.
New York, New Jersey, eastern Pennsylvania and Connecticut have seen snowfall up to eight inches in some areas.
Airports in New York and New Jersey have already cancelled more than 1,700 flights. Several parks were also closed throughout New York and New Jersey over fears of falling trees, and many schools canceled classes.
Snow covers a fallen tree in a neighborhood which was left destroyed by Hurricane Sandy in the Staten Island borough of New York November 7, 2012 (Reuters / Adrees Latif)
A nor'easter does not have the destructive force of Sandy, which killed more than 110 people in the US, cut power to 8.5 million homes and flooded New York City and the New Jersey coast. The winter storm still poses a danger, however, because it is hitting areas already devastated by Sandy, increasing the risk of further flooding.
"We're petrified," James Alexander told USA Today. Alexander lives in the hard-hit Rockaways section of New York City's Queens borough. "It's like a sequel to a horror movie."
The storm has also stalled post-Sandy repairs, preventing emergency workers from dealing with the hurricane's impact.
Pedestrians walk through high winds and snow at Union Square on November 7, 2012 in New York City (John Moore / Getty Images / AFP)
A woman hails a taxi while braving high winds and snow near Union Square on November 7, 2012 in New York City (John Moore / Getty Images / AFP)
Pedestrians walk through high winds and snow at Union Square on November 7, 2012 in New York City. The city was hit by a Nor'Easter storm, just ten days after Superstorm Sandy ravaged the tri-state area (John Moore / Getty Images / AFP)
A man walks in the snow during the Nor'Easter, also known as a northeaster storm, in Jersey City, New Jersey November 7, 2012 (Reuters / Eduardo Munoz)
A man rides his bike as a firefighter truck attends to a call as it snows during the Nor'Easter, also known as a northeaster storm, in Jersey City, New Jersey November 7, 2012 (Reuters / Eduardo Munoz)
Wheels marks are seen on a street covered with snow during the nor'easter, also known as a northeaster storm, in Jersey City, New Jersey November 7, 2012 (Reuters / Eduardo Munoz)
A man walks with his dogs under snow during the arrival of Nor'easter, also known as a northeaster storm, in Jersey City, New Jersey, November 7, 2012 (Reuters / Eduardo Munoz)
People stand on a destroyed section of boardwalk to check the storm's approach as a Nor'Easter arrives in the Rockaway neighborhood on November 7, 2012 in the Queens borough of New York City (Mario Tama / Getty Images / AFP)
People wait on line to buy gasoline during a Nor'Easter snowstorm on November 7, 2012 in the Brooklyn borough of New York City (Mario Tama / Getty Images / AFP)