Feds investigate NJ governor over Superstorm Sandy relief funds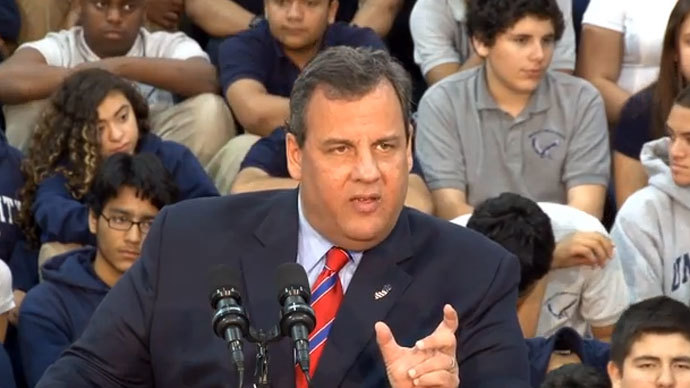 Days after a traffic scandal transposed New Jersey Gov. Chris Christie to the center of a federal probe, a United States congressman now says the embattled Republican is being investigated for allegations he misspent millions of dollars in relief aid.
Rep. Frank Pallone (D-New Jersey) asked the inspector general of the United States Housing and Urban Development Department back in August to examine how Gov. Christie's office spent around $25 million in federal aid from Washington meant to assist with relief efforts following 2012's Superstorm Sandy. Now five months later, Pallone says he's been told that the probe has expanded to become "a full-blown investigation," the second of such to be launched in under a week against the Christie administration.
ABC News reported earlier Monday that Pallone told them he was notified at the end of last week that the preliminary results of the HUD investigation have prompted auditors to ramp-up their probe.
"There's reason to believe there's a problem here," Pallone told ABC.
Critics of the Christie administration have raised concerns in recent months over allegations that the governor may have misused federal aid money, particularly with regards to the "Stronger than the Storm" advertising campaign launched in the aftermath of Sandy to help reinvigorate tourism in New Jersey, in order to benefit his own reelection efforts ahead of the November 2013 election.
When Pallone wrote to HUD in August, he acknowledged that New Jersey hired public relations firm MWW to assist with the "Stronger than the Storm" campaign, despite receiving a proposal from another qualified company that would have cost around $2 million less.
Ultimately the state awarded MWW a contract for $4.7 million to create the "Stronger than the Storm" campaign, the likes of which involved an advertising blitz that heavily relied on images of Gov. Christie and his family. The Christies were absent from less-expensive proposals submitted by competing companies.
"While promoting tourism at the Jersey Shore in the wake of Hurricane Sandy is certainly a worthy endeavor, recent reports have led me to believe that the state has irresponsibly misappropriated funding allocated by Congress from the Sandy aid package and taken advantage of this waiver for political purposes," Pallone wrote to HUD in August.
"Had Governor Christie chosen the less expensive firm, $2.2 million in federal disaster aid could have potentially been directed elsewhere, for example, to provide 44 Sandy-impacted homeowners $50,000 grants to raise their homes," Pallone said in a press release.
The lawmaker now says that HUD's investigation has been expanded, and a full audit will of the $25 million will be completed during the next several months.
"This was money that could have directly been used for Sandy recovery. And, as you know, many of my constituents still haven't gotten the money that is owed them to rebuild their homes or raise their homes or to help," he told CNN
The latest scandal to impact Christie's office comes less than a week after scandalous emails revealed that high-placed staffers within his administration manufactured a traffic jam by closing down lanes near the George Washington Bridge in Fort Lee, New Jersey, reportedly in retaliation for that town's mayor's reluctance to endorse the incumbent ahead of the gubernatorial election in November. Christie has taken disciplinary action against no fewer than two of his staffers in the days since, and on Thursday the office of US Attorney Paul J. Fishman confirmed that they were reviewing whether a federal law was implicated as a result of the lane closures.
During a press conference on Thursday, Gov. Christie said he was "embarrassed and humiliated" by the traffic scandal. His office had not publically responded to the latest probe as of Monday morning.
You can share this story on social media: