Massive fire engulfs New Jersey seaside battered by Hurricane Sandy
A New Jersey boardwalk that was just rebuilt after Hurricane Sandy has been destroyed again by a massive fire, with flames engulfing an ice cream shop and other buildings along the coastline in the span of just a few hours.
The blaze originated at about 2:15 pm EST at Kohr's Ice Cream and, fueled by a strong wind to the southeast, quickly spread to at least 19 structures within 15 minutes, a Seaside Heights police officer told the New Jersey Star-Ledger.
New Jersey Governor Chris Christie refused to speculate on a cause but told reporters that the fire was under control. He said a trench was dug at Lincoln Avenue, where officials hope the fire will be cut off, and that neighborhoods to the north of that point had to be evacuated. An official investigation into the cause will begin on Friday. 
"Funtown" collapses in heavy fire as boardwalk blaze continues to burn out of control in Seaside Heights, NJ. #wbzpic.twitter.com/O3OBHvsuUx

— Peter Wilson (@PetesWire) September 12, 2013
Approximately 400 firefighters were on the scene and while some were being treated for smoke inhalation, no serious injuries were reported. 
"It's raging," Michael Loundry, who works on tourism-related projects with the seaside Heights community, told reporters. "It is absolutely raging. The wind is blowing something fierce, making it very difficult for firefighters to fight." 
The fire was only contained after firefighters and dozens of volunteers from the community frantically ripped out 25 feet of boardwalk to cut the fire's fuel source. Six fire departments were on the scene and said they would continue to douse the ruined structures through the night. 
On the Seaside boardwalk getting briefed by officials now. pic.twitter.com/n3l7lLjHoI

— Governor Christie (@GovChristie) September 12, 2013
The affected area of the boardwalk was heavily damaged but not completely destroyed by Hurricane Sandy last October. That so-called superstorm devastated the region, pulling a roller coaster out into the ocean in what became one of the most iconic images captured of Sandy's wake.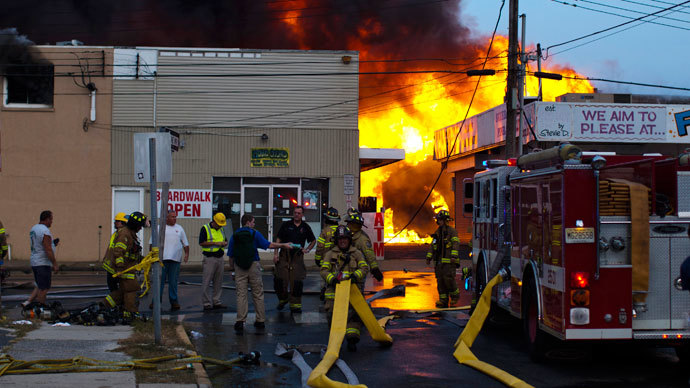 Residents said the normally profitable tourist season was one of Sandy's casualties, in no small part because of the effort it took to rebuild the boardwalk. 
"The summer was soft, but it picked up toward the end," Borough administrator John Camera said. "We ended on an uptick, and we were hoping next year will be strong."
Mayor of Seaside Park Robert Matthies said the fire "is another tremendous wrench in the recovery."
Jersey fire, over 400 firefighters on scene, this is a big one pic.twitter.com/Kx4QMwTRxi

— jo-anna perkins (@lucysmum25) September 12, 2013
Seaside Park Police Chief Francis Larken estimated that at least 80 percent of the boardwalk in Seaside has been destroyed, according to NBC 10 News in Philadelphia. He also guessed that three dozen businesses were no longer standing. Various other officials said that between 20 and 32 businesses were engulfed in the inferno. 
Christine Hemingway, who was inside the custard shop, said the smoke appears to be billowing from underneath the boardwalk.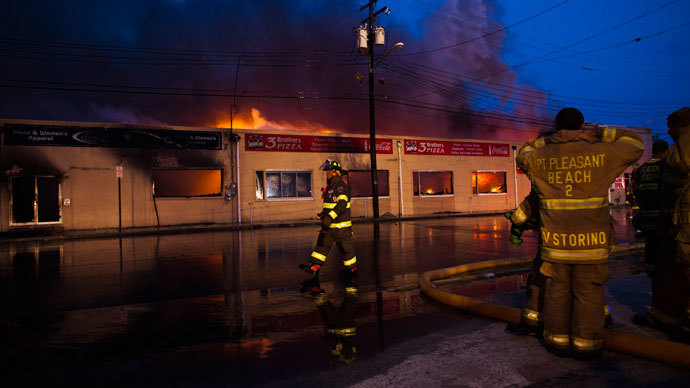 "Our manager came running through the stand and said 'get out,' we go around the corner in front of Biscayne Candy and there was smoke coming up from the boardwalk," she said. "There was a little smoke and then all of a sudden it got thick and black."

Plumes of smoke were visible from at least seven miles away.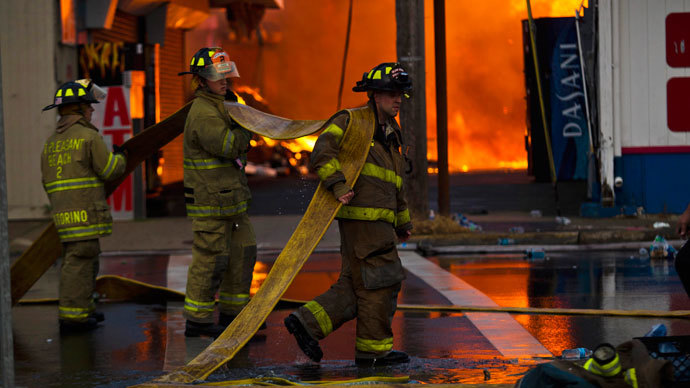 The section of the boardwalk that was already destroyed cost $8 million to rebuild after Sandy along with two resort communities that each spent untold millions on repairs in the past year. At one point, embers from the fire spread across the street to ignite multiple small homes but the flames were doused before causing any damage.
"It's devastating; I've been crying all afternoon," Shirlye Kreszel, who has rented homes in the area for decades, told the Associated Press. "Haven't we been hit enough? We try to rebuild and just when we think we saved a little bit of our town, this happens. It's just not fair."
Governor Christie was more succinct. "I feel like I want to throw up," he said.
You can share this story on social media: