Damning emails may implicate 2016 GOP hopeful Gov Christie in scandal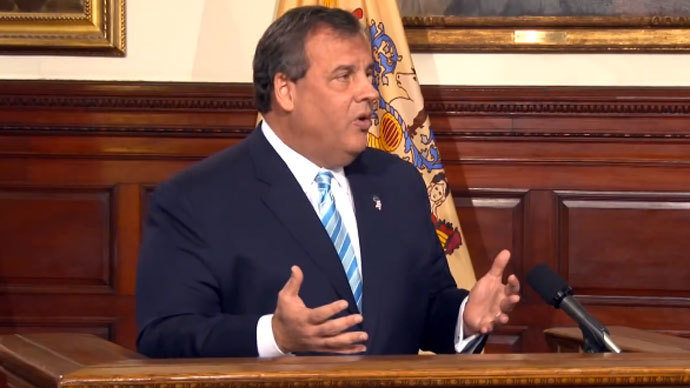 New Jersey Governor Chris Christie has denied any knowledge of a political retribution plot that he claims one of his aides organized, yet pundits are already wondering if the blowback will ruin Christie's chances at a bid for the presidency in 2016.
Emails released Wednesday by the Bergen Record show that Christie's deputy chief of staff, Bridget Ann Kelly, intentionally planned to inconvenience the citizens of Fort Lee, NJ after Mark Sokolich, the borough's Democratic mayor, did not endorse Christie for reelection.
"Time for some traffic problems in Fort Lee," Kelly wrote in an email dated August 13, months before the November election.
"Got it," was the reply from David Wildstein, a top Christie official who worked at the Port Authority, the transportation center run by both New York and New Jersey.
One month later on September 9, the first day of school, commuters left for work only to discover that two of the three access lanes leading to the George Washington Bridge – the most heavily trafficked bridge in the US – had been shuttered.
Even worse, the Port Authority was soon notified that the traffic jam had delayed police who were searching for a missing child and emergency crews trying to save someone who suffered a cardiac arrest.
Still, the lanes remained closed until New York Governor Andrew Cuomo demanded they be reopened, calling the decision "abusive" and speculating that it may have been a crime.
Yet Christie, who is considered one of the likeliest candidates for the Republican presidential ticket in 2016, denied any involvement in the plan on Wednesday.
"What I've seen today for the first time is unacceptable. I am outraged and deeply saddened to learn that not only was I misled by a member of my staff, but this completely inappropriate and unsanctioned conduct was made without my knowledge," he said in a statement.
"One thing is clear: this type of behavior is unacceptable and I will not tolerate it because the people of New Jersey deserve better," he went on. "This behavior is not representative of me or my administration in any way, and people will be held responsible for their actions."
The Fort Lee EMS department has said that it took emergency crews one hour to wade through traffic and respond to four medical calls on the first day of the traffic freeze. One woman, a 91-year-old, who laid unconscious waiting for EMS to treat her cardiac arrest, later died. It is unknown if her live would have been saved without the bridge closure.
When Mayor Sokolich complained to that so many travellers were caught in the mess, Wildstein comforted a Port Authority co-worker by saying not to worry, "they are children of Buono voters," a reference to the Democratic candidate Christie would face in November, Barbara Buono. Buono said Wednesday that Christie was likely behind the plot all along.
"This is a guy who runs a paramilitary operation," she told the Daily Beast. "His people don't sneeze without checking with him first. But I think what really was the most damning [revelation] was the cavalier attitude that these folks had about subjecting children and the public to public safety hazards. These are terrible people, and the ringleader is Chris Christie."
Christie's situation is complicated by a press conference he gave last month in which he supported his staff's claims that the closures were done as part of a traffic study. The governor asserted that Wildstein and deputy executive director of the Port author Bill Baroni, both of whom have since resigned, were wrong to not clear the change with the head of Port Authority, although there was no nefarious plan behind the decision.
Sokolich speculated in September that the ramp closure were more than a simple study, but he said he never officially refused to endorse the governor, speculating that his tardiness in replying to Christie was evidence enough. He told the Huffington Post Wednesday that the emails are clear evidence that the governor is a partisan thug.
"My reaction wavers everywhere from comical to criminal," Sokolich said. "It is absolutely the most disheartening example of petty politics, which has gone so afoul, and to put the well-being of a community that has to deal with traffic issues every day to create a manmade set of circumstances that put all of us in harm's way."
"Since it would appear through these emails there was a level of intentionality, we demand an apology," he went on. "We demand that somebody reach out to the folks that waited for ambulances, experiencing three to four longer response times that usual…Somebody's got to cut Fort Lee back a reimbursement check for our overtime and all the other expenses that we incurred during those four days, because you have no idea what the mobilization effort around here is when something like that happens."
The governor has previously said that he does not remember ever meeting Mayor Sokolich and doubted whether he was of any interest to campaign members responsible for shoring up endorsements.
"None of this makes any sense to me and I think in the end what it'll be shown to be in the end is just rank speculation from folks who want to play political games, because I don't remember meeting him," Christie said of Sokolich before the emails were made public.
"If you had him in the room right now I wouldn't be able to pick him out because I don't even know what he looks like."
You can share this story on social media: