New Jersey governor to ease medical marijuana access for kids after father begs for daughter's life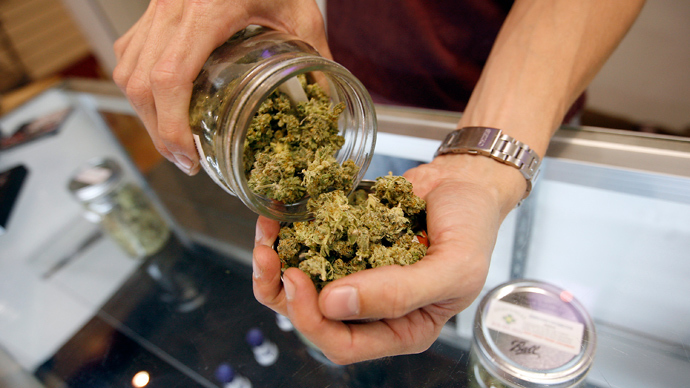 Children in New Jersey may soon have access to medical marijuana after Governor Chris Christie announced that he has agreed to sign, under two stipulations, a bill that will allow families to determine their own health care.
New Jersey constituents have pressed Christie to sign the bill, which would allow medical cannabis dispensaries to grow more than three strains of marijuana and provide edible forms of the drug. Digestible methods are better suited to children because the process maintains the medical properties while removing many of the 'high-like' aspects popular among recreational smokers. 
Christie said on Friday that he would sign the bill into law only under the conditions that edible forms of marijuana are available only to qualified children, and that a psychiatrist and pediatrician must authorize the child's prescription. Neither provision would preclude children from gaining access to medical cannabis, but refusing to allow adult patients access to edible marijuana may pose an unnecessary risk to those with respiratory illnesses.
Medical marijuana is currently legal in New Jersey, but the bill would permit growers to produce more strains of the drug, thereby treating a higher number of patients more accurately. Children currently need three doctors' signatures in order to be prescribed cannabis. With the current bill proposing that only one signature be needed, Christie seems to be splitting the difference.
The state legislature has not yet revealed if it would consider the changes.
Cannabis can help relieve symptoms from cancer, muscular dystrophy, lupus, and over 30 other illnesses. The drug is known to combat insomnia, lack of appetite, general pain, movement disorders, glaucoma, and vomiting, among other maladies.
"As I have repeatedly noted, I believe that parents, not government regulators, are best suited to decide how to care for their children," Christie said in a Friday press conference. "I am making commonsense recommendations to this legislation to ensure sick children receive the treatment their parents prefer, while maintaining appropriate safeguards. I am calling on the legislature to reconvene quickly and address these issues so that children in need can get the treatment they need." 
The governor made headlines earlier this week when Brian Wilson, the father of a two-year-old girl who suffers from a severe form of epilepsy known as Dravet syndrome, approached him asking for help.
"Please don't let my daughter die, Governor," Wilson said as Christie walked through a New Jersey diner surrounded by cameras. "Don't let my daughter die." 
"These are complicated issues," Christie said, to which Wilson replied it should actually be quite an easy decision. 

"I know you think it's simple and it's not," Christie responded. 
Wilson told reporters after the scrum that if Christie did not agree to sign the bill on Friday he would be forced to move his family to Colorado, where children with Dravet have been cured of overwhelming seizures by using cannabis.