Newt Gingrich dozes off during AIPAC address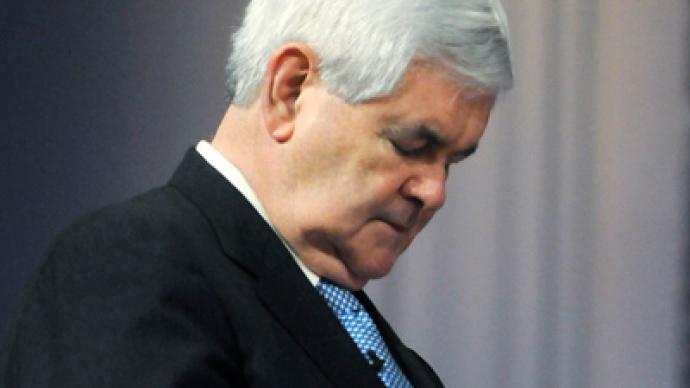 Was he in desperate need of some beauty sleep or dreaming up a design for that $2.50 gas plan he's been promising? Whatever his excuse, presidential hopeful Newt Gingrich definitely dozed off seconds before his address before AIPAC on Tuesday.
Republican Party candidate Newt Gingrich addressed the American Israel Public Affairs Committee this week via satellite, and ABC News had cameras rolling ready for him to deliver a rousing speech. Rather than an address fit for the record books, however, the AIPAC audience instead was offered an out-there speech from the sleepy former speaker of the House.Moments before Gingrich was scheduled to address the same conference that hosted US President Barack Obama and Israel Prime Minister Benjamin Netanyahu earlier this week, Gingrich got a wee bit tired and took to squeezing in an impromptu cat nap. ABC News had already started rolling on the GOP hopeful though, as his remote address was slated to be streamed live to the conference in Washington. Over the course of a few minutes, Gingrich nodded in and out a few times, at one point awaking to say, "Listening to Panetta is not a relaxing experience." Judging by ABC's footage, it isn't quite clear if Gingrich was discussing US Defense Secretary Leon Panetta with someone else in the studio before he started sleeping, or if the speaker had simply daydreamed about an intense diatribe from the Pentagon's top gun. When Gingrich was finally awake for good, he was introduced before the committee. He dismissed any opening statements though, and instead extended to the audience, "I understand you have a panel. I look forward to any questions."There was no panel for Gingrich, however. There was, on the other hand, a roomful of attendees waiting for the speaker to catch his slip-up. They waited a while.It took a full 12-seconds before the event's host brought himself to keying in the keynote speaker that no, in fact, he was mistaken."Mr. Speaker, there is not a panel," revealed the AIPAC host. "Please do continue, sir."Gingrich, it would seem, wouldn't be able to just sleep through this one. He sure as hell tried, though.The speaker recovered and said, in that case, he could make his address a short one. "Let me just say – I say this pretty briefly, I think. We need a fundamental reassessment of our entire understanding of the threat of radical Islam," said Gingrich.ABC has since released the footage their photographers captured on Tuesday.Hours later on Super Tuesday, Gingrich was much more energized and on top of his game as he addressed supporters in his home state of Georgia. Hoping for a big victory as ten states hosted primary elections on Tuesday, Gingrich only garnered first place down home. Addressing an audience in Atlanta, Georgia, Gingrich thanked them for their support on Tuesday and dismissed "the national elite's effort" to kill his campaign. "Tomorrow will bring another chapter in the race for the nomination, but it's more than a chapter in the race for the nomination. It's a chapter in a fight for the soul of the Republican Party. It's a chapter in the fight for the very nature of America. It's a chapter defining who we are as a people," said Gingrich.Hopefully he will get a nap in before then.
You can share this story on social media: