Castro calls the GOP race a "competition of idiocy"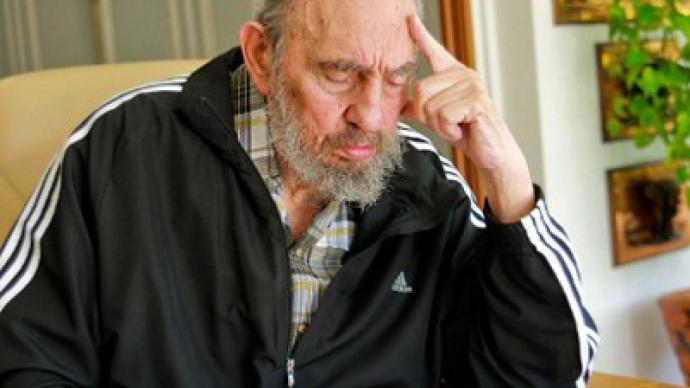 At Monday's Republican debate, both Mitt Romney and Newt Gingrich came to an agreement on something: they each wish Fidel Castro would just die already. Days later, the former Cuban president fired back and offered some words of his own for the GOP.
According to Castro, the race on the right is full of idiots.
The Republican frontrunners spent a few minutes on Monday debating how they would react to the hypothetical news that the 85-year-old revolutionary has passed away. Romney was first to answer, saying that his initial reaction would be to "thank heavens." Next was Speaker Gingrich, who was a bit more harsh with his response, suggesting that the communist commando wouldn't make the cut at the Pearly Gates and would instead be subjected to an eternity in hell. Never mind what they think, though. To Castro, their opinion is absolutely meaningless.
In an op-ed column published Wednesday, Castro writes, "The selection of a Republican candidate for the presidency of this globalized and expansive empire is — and I mean this seriously — the greatest competition of idiocy and ignorance that has ever been."
A good rule of thumb is not to question a retired Cuban leader capable of overthrowing a political system and ruling a nation for nearly 50 years. But when Castro says he's being serious, you best believe that he means business.
Texas Congressman Ron Paul handled the query on Monday by saying, "We propped up Castro for 40-some years because we put up these sanctions and this only used us as the scapegoat, he could say anything wrong is the United States' fault," adding, "I think it's time to quit this isolationist business of not talking to people." For Castro, that might not be the best idea, either. He adds in his write-up that he is too busy with other matters to get involved with the Republican race for the nomination, so it's safe to assume that, if any of these "idiots" are elected, Castro will continue to cast his opinions elsewhere.
That isn't to say that Castro will be endorsing incumbent Barack Obama later this election year either, though. After the current president addressed the United Nations in September 2011, Castro asked in a separate op-ed, "Who understands this gibberish of the President of the United States in front of the General Assembly?"
Earlier this month, Castro remarked that, faced with a choice between Obama, a top-tier Republican rival or a robot, "90 percent of voting Americans, especially Hispanics, blacks and the growing number of the impoverished middle class, would vote for the robot."