CIA releases Top Secret Bay of Pigs papers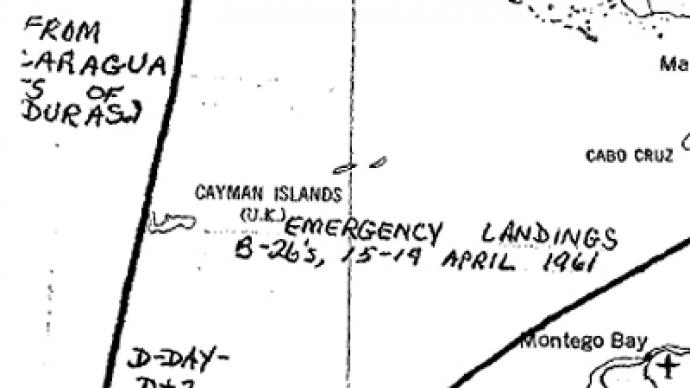 Secrets during the Kennedy administration? Who knew? Fifty years after the fact, a filing with the Freedom of Information Act is allowing for the declassification of 1,582 pages of CIA write-ups on the Bay of Pigs invasion.
Much of the material being made available in the formerly-Top Secret official history of the Bay of Pigs is leaving the Pentagon for the first time ever. In the papers being released, four separate volumes of documents describe the Kennedy-approved invasion in which Cuban exiles unsuccessfully attempted to overthrow Fidel Castro's government, causing the deaths of expats fighting for America in a botched operation.Activist Peter Kornbluh filed the request for the papers to be released through the FOIA, though a fifth volume in the series is still being held under lock-and-key by the CIA."These are among the last remaining secret records of this act of US aggression against Cuba," says Kornbluh, who runs the Cuba Documentation Project at the National Security Archive at DC's George Washington University. "The CIA has finally seen the wisdom of letting the public scrutinize this major debacle in the covert history of US foreign policy."The material contained in the newly released volumes expose how close of a relationship existed between the US and Guatemala during the time of the invasion, and how Cuban exiles trained for the invasion on Guatemalan soil. It is also disclosed that then-Guatemalan President Miguel Ydigoras Fuentes wanted to use his own army in the excursion and had at one time asked America for assistance against rebel attacks by way of napalm bombs.Elsewhere in the volumes, Kornbluh unearths that JFK and his brother, Attorney General Robert Kennedy, expressed worry over a Senate investigation that would have revealed that President Kennedy had authorized American military equipment in the attack. Other information details the relationship not just between the US and Cuba, but also between the CIA and Nicaragua, Panama and Great Britain.
You can share this story on social media: