More terrorized drivers report forceful rectal inspections by New Mexico police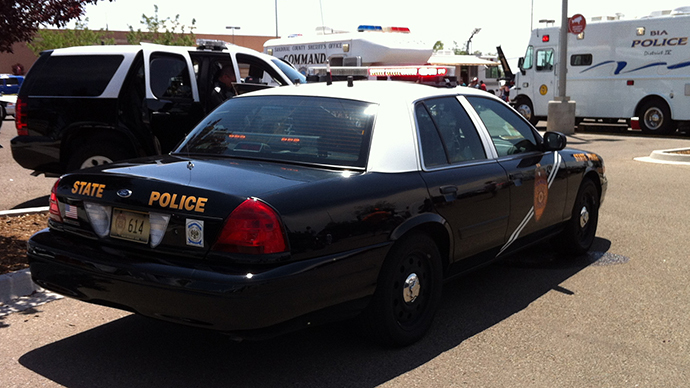 New Mexico police are in hot water after it was discovered that they forced people to undergo humiliating rectal searches based on the reaction of an unlicensed K-9.
On Tuesday, RT reported that David Eckert, pulled over by police for running a stop sign, was detained after a K-9 named Leo sniffed drugs on his seat and police suspected he was carrying drugs in his anal cavity.
Eckert was taken to a hospital outside of the issued search warrant's jurisdiction and subjected to eight medical procedures without his consent, including two rectal finger examinations, three enemas, and a colonoscopy. All of the examinations failed to uncover any drugs.
Now, continued investigation by the local KOB TV station reveals Eckert's story wasn't an isolated incident. According to police reports, a young man named Timothy Young was also stopped by police after a minor traffic violation. The same K-9 dog, Leo, sniffed drugs on his seat, causing police to seek a warrant to search Young's body for illegal substances.
Just like Eckert, Young was taken to Gila Regional Medical Center, located in a county not covered by the search warrant, where doctors performed medical procedures, including finger exams of his anus and an X-Ray of his stomach. Young did not consent to the examinations. Again, no drugs were discovered in his body.
Further investigation by KOB has revealed that Leo the K-9's drug dog certification expired back in 2011 and was never renewed. Certification for drug dogs must be renewed on a yearly basis.
"We have done public records requests to try and find anything," Shannon Kennedy, Eckert's attorney, told KOB. "We can't show that this dog had ever been trained, and we have evidence this dog has had false alerts in the past."
The officers in charge of these incidents will face the state's law enforcement board to answer for their conduct, while the doctors at Gila have been handed over to the state licensing board, where their license to practice medicine could potentially be revoked.
It's unknown whether Young has filed charges against police or the doctors at Gila, but Eckert is suing the city of Deming, Hidalgo County, the officers responsible for his detainment, and the doctors at Gila.
You can share this story on social media: