​Classified US satellite blasts off from Cape Canaveral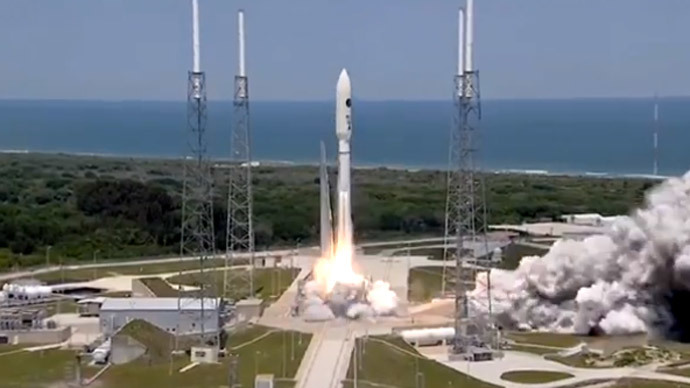 An American satellite with a mystery payload has successfully launched from the NASA spaceport in Florida, leaving amateur observers guessing about the nature of its contents.
The Atlas V rocket, powered by Russian-made engines, started from Cape Canaveral at 1.45 pm local time, in what was a delayed launch following radar failure prior to the original launch date of March 25.
As with all satellites commissioned by the National Reconnaissance Office, the payload of the NRO-67 was not disclosed, and even the broadcast of its flight was cut off four minutes in to avoid disclosing its potential orbit.
The mission patch for NRO Launch 67 shows a Pegasus atop the planet, with the words "In scientia opportunitas" – Latin for "In knowledge there is opportunity".
Years of study by amateur observers mean that despite the secrecy of their missions, the purpose of many satellites is easily rumbled, with the help of partial data, orbit study and comparison with similar previous launches.
But NRO-67 does not obviously resemble any previous launch.
The same rocket configuration was previously used only once, to launch the Mars Curiosity rover in November 2011.
Nonetheless, internet bloggers have widely predicted that the new satellite will be engaged in signals intelligence – or SIGINT – intercepting either foreign communications or collecting telemetry from foreign missile launches.
But what is more certain, if still speculative, data will emerge only after the NRO-67 becomes operational and assumes its orbit in the coming months.