Monsanto readies first-ever GMO wheat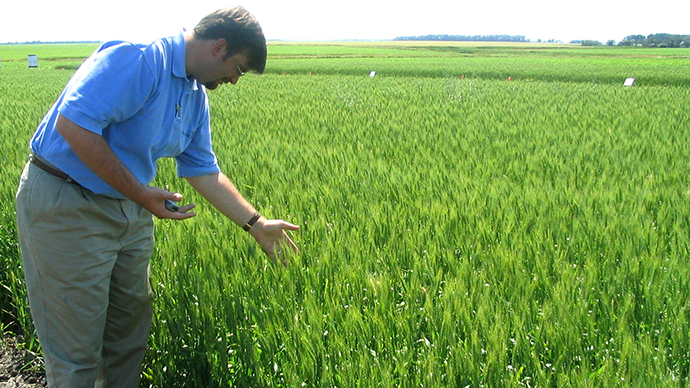 Biotech titan Monsanto has made significant advances in the development of herbicide-tolerant wheat, the company announced recently, and could have the first-of-its-kind crop ready for farming in just a few years' time.
Genetically-modified wheat isn't legally approved anywhere in the world, but the billion-dollar St. Louis, Missouri-based agriculture company has for years been determined to develop the first GMO variety of the cash crop. Now Monsanto's chief technology officer thinks the company is on the right track with regards to research.
Monsanto's GMO wheat-in-progress is among 29 endeavors being undertaken by the group to have made "phase advancements" recently, company reps said in a conference call last week, and testing has advanced from the "proof of concept" stage to early development.
Monsanto-made wheat, like other GMO crops created by the company, would be resistant to their weed killer Roundup and thus join the likes of other "Roundup Ready" products already sold by the company, including bioengineered soybean and corn.
"From an overall market perspective, the grain industry and the wheat industry — specifically the wheat trade industry — has remained very interested and supportive of biotech advances," Monsanto CTO Robb Fraley said during last week's call, according to Baking Business reporter Eric Schroeder.
"A wheat farmer generally is also a corn and soybean farmer, and they understand the benefits of the technology, and the wheat industry has watched the benefits that this technology has brought to both corn and soybeans. And so we continue to make advances," added Schroeder.
According to the company's top technologist, though, GMO wheat would likely not be reality until a couple of years down the road.
"We are still several years away from a product launch, but it is nice to see those products in the pipeline," Fraley added.
Indeed, Monsanto has actually spent the better part of a decade-and-a-half researching GMO wheat. The company began field testing a variety starting in 1998, but suspended operations in 2005 after determining that a super-wheat strain wasn't quite ready to be launched.
As RT reported last week, Monsanto also recently announced that sales of its Roundup Ready soybean grew 16 percent during the quarter ending November 30, 2013.
Piper Jaffray Cos analyst Michael Cos told Bloomberg News at the time that Monsanto's GMO soybean "will prove to be the single most important earnings driver" for the company during the course of the next two years. According to Fraley's assessment, though, the company could be nearly completion on its GMO wheat by then.
Should Monsanto stay on track, however, they'll still have to worry about the restrictions currently in place in the United States and abroad against GMO wheat. The company became the centerpiece of a biotech scandal last year when remnants of old biotech wheat turned up on an Oregon farm practically a decade after Monsanto supposedly stopped testing the crop. After those reports circulated, a government official for Japan's farm ministry placed an embargo on all US wheat.
Many others countries outside the US have banned GMO imports, and China recently refused no fewer than five shipments of American corn allegedly over concerns it could have been tainted by a biotech variety of the crop.
You can share this story on social media: