Mississippi set to execute woman for crime her son confessed to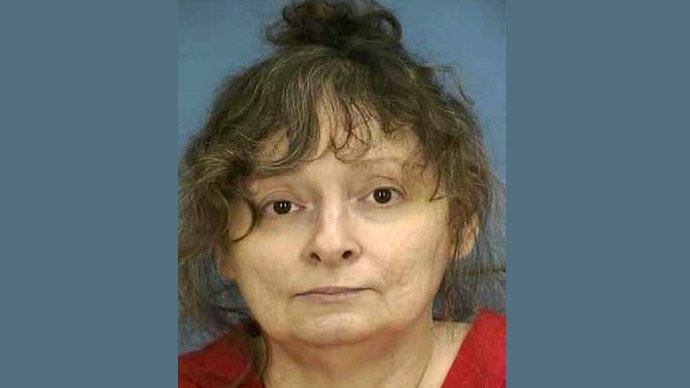 Mississippi is scheduled to execute its first woman since 1944 on Thursday, despite multiple pieces of evidence showing her son confessed to the murder she was convicted of.
The case involves 57-year-old Michelle Byrom, who was originally convicted of hiring her son's friend, Joey Gillis, to kill her husband in exchange for $15,000 back in 1999.
The problem is that none of those allegations may be true, and the jury hearing the case was not only kept from witnessing evidence of Byrom's mental illness, but also barred from seeing letters in which Edward Byrom Jr. confessed to killing his father himself.
"As I sat on my bed, tears of rage flowing, remembering my childhood my anger kept building and building, and I went to my car, got the 9mm, and walked to his room, peeked in, and he was asleep," Byrom Jr. wrote in one of the letters.
"I walked about 2 steps in the door, and screamed, and shut my eyes, when I heard him move, I started firing. When I opened my eyes again, I freaked! I grabbed what casings I saw, and threw them into the bushes, grabbed the gun, and went to town."
During the capital murder trial, Byrom Jr. testified against his mother, claiming she was the mastermind behind the death of his father and that Gillis was responsible for the shooting. Byrom Jr. had also been arrested as part of the conspiracy – and was the only individual involved with gunpowder residue on his hands – but after making a deal with prosecutors he was sentenced to 30 years in prison and is now free on a supervised release. Gillis was also freed in 2009 after reaching a plea deal with prosecutors.
According to the Jackson Free Press, however, there are at least four confession letters – including one to a court-appointed psychologist – in which Byrom Jr. states he is the one responsible for killing his father. Still, prosecutors maintained that based on the son's previous statements, Michelle was primarily responsible for organizing the murder.
While the defense sought to submit the letters as evidence, prosecutors objected on the grounds that the documents were not shared properly in advance, and therefore inadmissible. If the evidence had been presented when it should have been, the Clarion-Ledger reported prosecutors said, "it very well may have been that we would not have cut a deal with this individual (Junior), much less put him on the stand in this case."
According to the newspaper, Michelle was in the hospital on the day her husband was shot, where she was receiving treatment after consuming rat poison – something she had reportedly done before. Speaking with the Jackson Free Press, forensic psychiatrist Dr. Keith Caruso said she suffered from numerous mental illnesses, and her actions could have been attempts to escape an abusive relationship at home.
Michelle's attorneys, in addition to failing to properly submit the confession letters, also did not present any evidence that would have detailed her long history of abuse. Not only did she suffer from mental issues, but she was also abused by her stepfather and forced into prostitution. Her defense also waived her right to have a jury dictate her sentence, and with no mitigating evidence presented she was sentenced to death by a judge.
The Mississippi state Supreme Court later ruled to uphold her conviction in a 5-3 ruling, though dissenting Judge Jess Dickinson argued Michelle deserved a retrial, pointing to poor legal counsel by her attorneys.
"I have attempted to conjure up in my imagination a more egregious case of ineffective assistance of counsel during the sentencing phase of a capital case. I cannot," he wrote.
The US Supreme Court has also declined to hear the case, meaning there are few options left for Michelle as her execution date draws near. Former state Supreme Court Justice Oliver Diaz Jr., who was also in favor of a new trial, told the Clarion-Ledger he couldn't believe she was about to be killed.
"There's no way justice was done in this case," he said. "If an execution is allowed to proceed, we all are complicit in it in Mississippi."