Supreme Court to determine whether states can execute 'mentally retarded' prisoners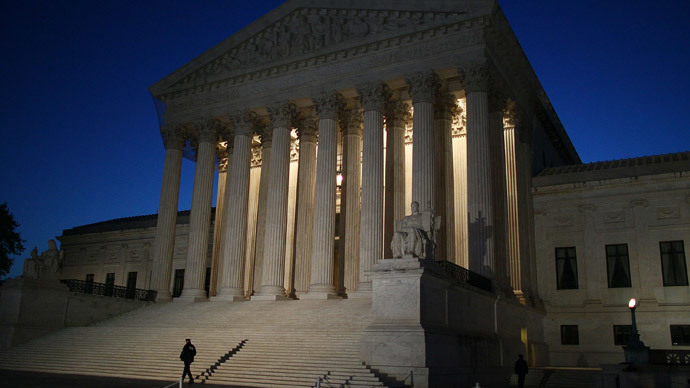 The US Supreme Court has indicated that it will consider requiring state authorities to assess more than just a death row convict's intelligence score when evaluating whether an inmate is eligible to be executed.
Judges heard arguments on Monday about how law enforcement officials in Florida and a number of other states allow a person to be executed if their IQ is barely higher than 70, the traditional barrier that separates the general population and those with cognitive disability. Twelve years ago, the Supreme Court prohibited the execution of the mentally disabled, yet the justices at that time left it up to individual states to determine how they define "mentally retarded."
Lawyers for Freddie Hall argued that their client should not be executed in Florida because he has spent his life struggling with a mental disability. The attorneys say that lower courts have sided with Hall but top authorities refuse to stop his execution. Hall has spent nearly four decades on death row after he killed a pregnant 21-year-old woman in 1978.
Under Florida law, an inmate with an IQ higher than 71 is not mentally retarded and can be put to death. However, five court justices argued that the rule does not account for the IQ test's margin of error, which can hypothetically skew a test result enough to send someone who may not be eligible into the death chamber.
"Your rule prevents us from getting a better understanding of whether the IQ score is accurate or not," Justice Anthony Kennedy told Florida Solicitor General Allen Winsor, who argued that there is no need to loosen the parameters around a score of 70.
Winsor advised the court not to diverge from the existing rule because state law has determined "they are not mentally retarded if they don't have an IQ score of 70 or below." He added that if the 70 point cutoff is forsaken, twice the number of inmates on death row could claim they are disabled.
"But some of them may actually be mentally retarded," replied Justice Elena Kagan, as quoted by the Associated Press.
Freddie Hall has consistently scored above 70 on his IQ tests but his representation says there is sufficient proof that the inmate is in fact disabled. One judge who previously ruled on the case wrote that Hall "had been mentally retarded his entire life," with multiple psychiatrists and other professionals agreeing. School records dating from the 1950s also make it clear that Hall's teachers considered him to be "mentally retarded," the accepted term for a mental disability at the time.
"The predictable consequence of Florida's rule is that persons with mental retardation will be executed," Eric Pinkard, one of Hall's lawyers from Florida's Capital Collateral Regional Counsel, wrote in a brief to the justices. "Without this Court's intervention that will happen here…The evidence is overwhelming that Freddie Lee Hall has mental retardation."
Hall was convicted of kidnapping and murdering a young woman as she left a Florida grocery store in 1978. He was also convicted of killing a sheriff's deputy. While Hall's guilt is not for the court to determine, Justice Antonin Scalia wondered if the sheer brutality of Hall's crimes is evidence of ample cognitive function.
"Could the state show that in refutation of his retardation evidence?" Scalia said, adding that Hall had not complained of any metal disability during his first decade in prison.
Some observers expect that Scalia will be the decisive vote on the matter. The conservative judge also seemed to doubt the assertions of medical professionals, the American Psychiatric Association in particular.
"They change their mind, counsel," he said. "This APA is the same organization that once said that homosexuality was a mental disability and now says it's perfectly normal."
Justice Sonia Sotomayor admitted a "line has to be drawn somewhere," with psychiatrists suggesting that a 76-score is high enough to be accurate while remaining clear of the inherent margin of error. Mississippi and Oklahoma already adhere to that standard, whereas Texas – the state which executes the most inmates – does not follow a strict IQ guideline.
In 2012, Texas authorities executed Marvin Wilson, a 54-year-old convicted of murder, despite a 2004 psychological exam on which he scored a 61. The Supreme Court refused to hear an appeal from Wilson's attorneys, paving the way for his execution.
A decision in Hall v. Florida is expected to come no later than June.
You can share this story on social media: