​Federal judge rips death penalty states for secretive execution methods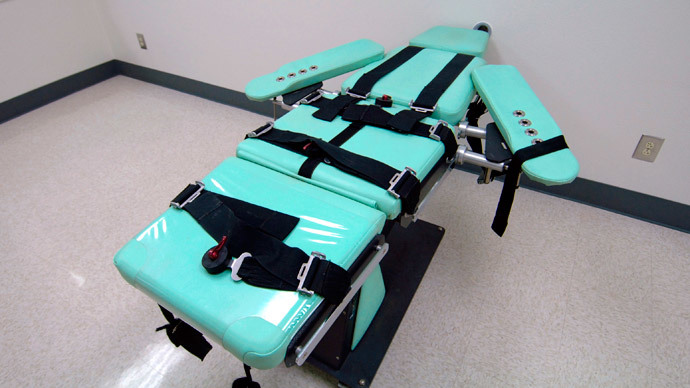 A federal appeals court judge excoriated states that have resorted to secretive and unproven methods for lethal injections, calling the source of the drug Missouri used Wednesday for an execution as "nothing more than a high school chemistry class."
Judge Kermit Bye, of the US Court of Appeals for the Eighth Circuit, ripped death penalty states for their increasingly closed approaches in carrying out capital punishments with the aid of anonymous compounding pharmacies that supply drugs.
Bye leveled his disapproval hours before Michael Taylor, 47, was executed for the 1989 murder of a 15-year-old girl in Kansas City. Taylor was put to death using pentobarbital from a pharmacist that the Missouri Department of Corrections will not disclose.
Though the Eighth Circuit did not stay Taylor's execution – nor did the US Supreme Court halt the proceedings - Bye said in his dissent the Eighth Amendment "prohibits the unnecessary and wanton infliction of pain through torture, barbarous methods, or methods resulting in a lingering death."
Bye added that "the absolute dearth of information Missouri has disclosed to this court, the 'pharmacy' on which Missouri relies could be nothing more than a high school chemistry class."
The statements mark the most forceful yet from a federal judge in decrying states that have turned to secretive means to execute prisoners.
"I once again fear Missouri elevates the ends over the means in its rush to execute Taylor," said Bye, whose dissent was backed by two other judges on the appeals court, as well as US Supreme Court Justices Ruth Bader Ginsburg, Elena Kagan, and Sonia Sotomayor.
States like Missouri and Ohio turned to clandestine methods when, in 2011, European drugmakers stopped selling and exporting to US states, drugs that could potentially be used for executions. The move has forced some of the states to switch from a three-drug cocktail used in the executions to just one drug – pentobarbital.
Earlier this month, an Oklahoma pharmacy agreed not to supply compounded pentobarbital for Taylor's execution, following a lawsuit filed by the convict arguing the substance was likely to cause "ultimately inhumane pain."
Taylor's lawsuit alleged that Missouri could obtain pentobarbital from the Apothecary Shoppe of Tulsa, which was unlicensed to supply Missouri with drugs.
The only licensed manufacturer of pentobarbital, Illinois-based Akorn Inc., purchased exclusive rights to the drug from a Danish company two years ago. Though the condition for the transaction was that the American firm agreed not to sell the substance for lethal injections.
Thus, the only option left is obtaining the substance from compounding pharmacies. In his lawsuit, Taylor, according to AP, gave several recent executions as examples of compounded pentobarbital causing "severe, unnecessary, lingering and ultimately inhumane pain."
With less than a week before Taylor's scheduled execution. Missouri announced it had found another anonymous compounding pharmacy that would make the drug.
Bye referenced Missouri's last-minute scramble to find a new pharmacy before Taylor's execution, saying there was little chance to perfect or even test the drug in that timespan.
"One should be suspicious of any pharmacy compounding a drug presumably for the first time, particularly when the pharmacy received Missouri's request just a week before the scheduled execution," the judge wrote.
He added that "it is conceivable this lack of experience and knowledge would lead to Taylor's death being excruciatingly painful."
Taylor was pronounced dead just after 00:10 EST on Wednesday morning. The Guardian's report on the execution indicated there were no apparent signs of pain or distress before his death.
The state of Florida is due to soon execute its fifth prisoner with the use of the sedative midazolam in place of pentobarbital. Lawyers for Paul Howell, 47, have petitioned courts to stay the execution based on the uncertainty that midazolam will not cause suffering as the third drug in the process, potassium chloride, stops his heart.
Midazolam was used in a two-drug formula by Ohio to kill Dennis McGuire in January. It was reported that McGuire gasped for breath for up to 14 minutes during the procedure, with witnesses describing the procedure as inhumane.
You can share this story on social media: