Mike Tyson banned from New Zealand
Published time: 3 Oct, 2012 19:32
Edited time: 3 Oct, 2012 23:32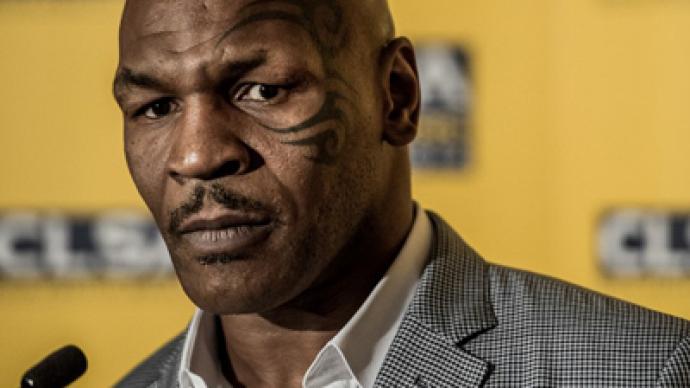 Mike Tyson can say he's a lot of things: a world boxing champ; a Broadway star; even an accomplished actor. One thing Iron Mike isn't, however, is welcome in New Zealand, where authorities decided this week to cancel the sports star's entry visa.
New Zealand authorities confirmed on Wednesday that they have invalidated a previously issued entry visa that was to be Mr. Tyson's entry ticket into the country, citing the athlete's 1992 rape conviction as reason enough to refuse admittance.
Officials overseas had granted Mr. Tyson an entry visa on condition that portions of the proceeds from an upcoming performance of his one-man show be donated to charity. A lump of those ticket sales were to be dispersed to the Life Education Trust, a New Zealand charitable organization, but the group withdrew its support on Tuesday, leading the federal government to give his visa application a second chance.
"Given that the trust is no longer supporting the event, on balance, I have made the decision to cancel his visa," New Zealand's Associate Immigration Minister Kate Wilkinson says in a public statement.
Wilkinson adds that authorities opted to make the "finely balanced call" only after Life Education Trust rescinded their support, which has garnered the endorsement of Prime Minister John Key, who denies having any say in the final decision.
Promoter Max Markson tells Fairfax NZ News that he only heard of the government's decision through the media, and that Mr. Tyson was preparing for a trip to the UK when the news was announced.
"It will be a tragedy if the people of New Zealand couldn't have the opportunity to see the show he has just done for two weeks on Broadway, directed by Spike Lee," Markson opined. "His story is one that is inspirational; how he has risen to the top of his sport, then obviously had enormous lows in his career and then has reinvented himself again."
Speaking to New Zealand's TV One, Markson said Tyson was "disappointed" by the decision, and insists that the star has "rebuilt his life" since the time his notorious 1992 conviction was handed down for raping a teenage beauty pageant contest charge; Tyson maintains his innocence two decades later.
"He's clean, he sober, he's a vegan, he's coming with his wife, his two children under four and his mother-in-law, he can't possibly do anything wrong in 20 hours," Markson tells TV One. "And in addition to that he is very much giving a social and economic benefit to the New Zealand economy."
NBC News reports that Tyson may next be facing similar issues in Australia, where he is expected to present "Day of the Champion" in November.