Jagger jabs Obama over NSA scandal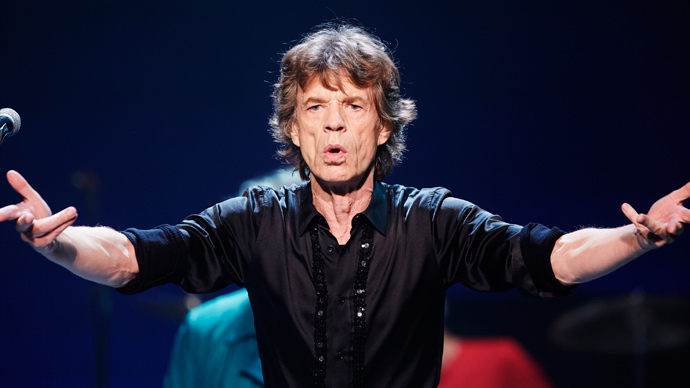 President Barack Obama didn't attend The Rolling Stones concert in Washington, DC Monday night, but lead singer Mick Jagger said that wasn't likely to keep the commander-in-chief from checking out the show.
During the course of a two-hour-long show in the nation's capital on Monday, the legendary singer stopped to briefly address the National Security Agency scandal that has plagued the presidency in recent weeks.
According to the Washington Post and other eyewitnesses at the sold-out show, Jagger stopped at one point to say to the crowd, "I don't think President Obama is here tonight. . . . But I'm sure he's listening in."
Other attendees tweeted during the show that Jagger's mention of the president's name prompted audible booing from the audience, and a message from Senator Rand Paul (R-Kentucky) regarding the NSA quip accumulated nearly 1,000 retweets on Twitter.
"I don't think President Obama is here tonight, but I'm sure he's listening in." - Mick Jagger, last night in concert in Washington.

— Senator Rand Paul (@SenRandPaul) June 25, 2013
Monday's show was the last American date of the Stones' 50 and Counting tour and came in the midst of the Obama administration's manhunt for Edward Snowden, a 30-year-old former intelligence contractor that began leaking classified NSA secrets to The Guardian newspaper earlier this month. Snowden is reported to currently be in Russia and could be seeking asylum from the likes of Ecuador, Iceland or elsewhere, although the White House has demanded he be extradited back to the US where he faces charges of espionage.
Shortly after The Guardian's first NSA disclosure, Snowden identified himself as the source of the documents. Articles in the British newspaper and others have since detailed classified materials released by Snowden that regard the US government's en masse surveillance of people around the world, American or non.
In the first document attributed to Snowden, the government was shown to be accumulating the phone records of millions of subscribers to telecom company Verizon each and every day. In another, he linked the NSA with accessing the personal correspondence conducted over private Internet services, such as Google and Facebook. Monday's show in DC took place at the Verizon Center, an 18,000-person arena that's been named for the telecom company since they absorbed the venue's original owner, MCI Inc., in 2006.
You can share this story on social media: