Mexican drug cartels increasingly hire US military servicemen as assassins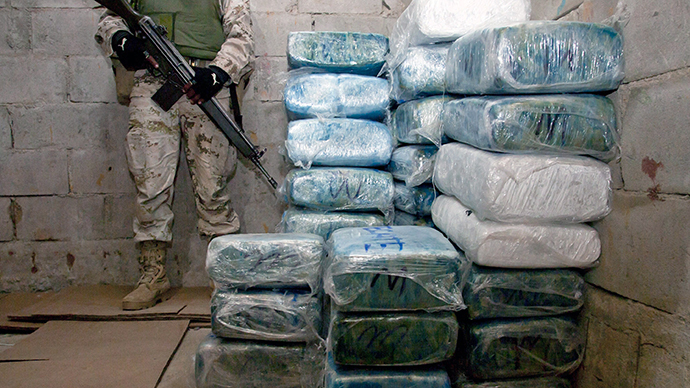 Mexican drug cartels are hiring US military personnel to carry out murders. In exchange for cash or drugs, some American servicemen are working as hit men or teaching gangsters their skills.
Drug cartels have recruited American servicemen for years, paying them thousands of dollars to assassinate government informants, ousted cartel members, and other enemies of the group, law enforcement experts told Fox News.
"There has been a persistent gang problem in the military for the past six to eight years," said Fred Burton, vice president for STRATFOR Global Intelligence. "…It is quite worrisome to have individuals with specialized military training and combat experience being associated with the cartels."
As of April 2011, the FBI National Gang Intelligence Center identified members of at least 53 gangs that have served in or are affiliated with the US military. The NDIC has also noted a rise in gang-related violence and activity along the US-Mexican border.
In one case, Michael Apodaca, a 22-year-old private first-class stationed at Fort Bliss, Tx., accepted a $5,000 offer by the Juarez Cartel to kill Jose Daniel Gonzalez-Galeana, a cartel member who was secretly working as an informant for Immigration and Customs Enforcement. Apodaca, who was 18 years old when he was recruited, fatally shot the informant in May 2009, but was caught by authorities and last week sentenced to life in prison.
In another case, Kevin Corley, a 29-year-old Army first lieutenant stationed at Fort Carson, Colo., conspired to commit a murder-for-hire for the Los Zetas drug cartel in November 2012. He was promised $50,000 and five kilograms of cocaine to conduct a drug raid and contract killing at a ranch near Laredo. He was required to bring his own team of assassins.
Corley also offered to provide tactical training for members of the cartel and steal weapons from the US military. Undercover agents posing as members of the gang discovered his intentions, and Corley was arrested. Former Army Sgt. Samuel Walker, 28, had been working with Corley and was convicted for conspiring in the murder-for-hire.
In May, a 43-year-old former lawyer for the Gulf Cartel, Juan Gerrero-Chapa, was found dead in the parking lot of a mall in an affluent neighborhood near Fort Worth, Tx. Authorities are concerned that the murder may have been conducted by an American serving for the US military.
"Obviously, the nature of this homicide, the way it was carried out indicates – and I said indicates – an organization that is trained to do this type of activity," Southlake Police Chief Stephen Mylett announced after the body was found. "When you're dealing with individuals that operate on such a professional level, certainly caution forces me to have to lean toward that this is an organized criminal activity act."
The US Army no longer takes in applicants with tattoos that are sympathetic to gangs, and fears that more of its members are aiding drug cartels each year – especially the Los Zetas cartel, which is notorious for kidnapping civilians and beheading its enemies.
"The FBI judges with high confidence that Los Zetas will continue to increase its recruitment efforts," the FBI wrote in a bulletin last month, warning that violence may continue to increase along the Southwest border. 
You can share this story on social media: