US citizens make up 80% of drug arrests at Mexican border - report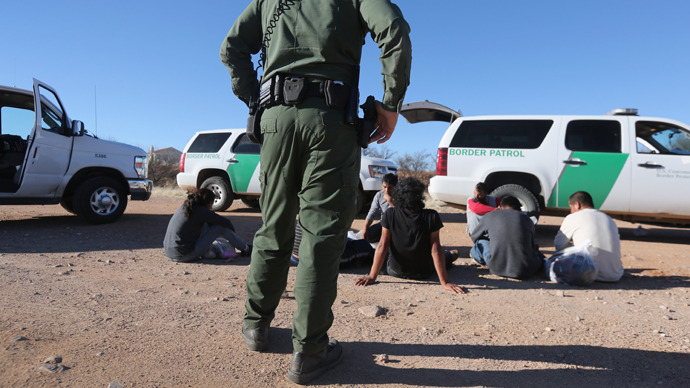 According to data from the Center for Investigative Reporting, Americans are taken into custody 80 per cent of the time in drug-related arrests at the Mexican border, as Mexican drug cartels favor US nationals because customs won't suspect them.
The news will hardly be surprising to Customs and Border Patrol agents, but it might be a shock to Americans relying on the assumption that drug offenders are almost exclusively criminals from south of the border. That stereotype is reinforced by the public message broadcast by police, who frequently publish press releases detailing major busts of Mexicans while overlooking major trends.

Center for Investigative Reporting (CIR) researchers Andrew Becker, G.W. Schulz and Tia Ghose admitted that American citizens are acting as drug runners for major cartels. "But the public message that the Border Patrol has trumpeted for much of the last decade, mainly through press releases about its seizures, has emphasized Mexican drug couriers, or mules, as those responsible for transporting drugs," they write.  

Customs and Border protection officials explained their selective press releases as a method of bringing attention to significant or "otherwise noteworthy seizures."

A general overview, when an individual's immigration status is known, reveals that four out of every five such arrests is that of a US citizen. That statistic changes when detainment for marijuana is removed from the data, though Americans still make up 60 per cent of arrests for harder drugs like cocaine and methamphetamine.

Retired deputy director of US Immigration and Customs Enforcement Alonzo Pena told CIR that the lack of a clear understanding of what's happening at the border could contribute to bigger problems in the future.

"After the 9/11, the immigrant, terrorist and criminal and the threat to national security have all been lumped together," he said. "We're not distinguishing very well who is who."

His assertion was bolstered by the evidence that, as illegal border crossings have dropped in recent decades, the administration of US President Barack Obama has doubled the number of police at the border to 21,000 officers.

"Real reform means stronger border security, and we can build on the progress my administration has already made – putting more boots on the southern border than at any time in our history, and reducing illegal crossings to their lowest levels in 40 years," Obama said during his 2013 State of the Union address.

So far, that policy has turned the border patrol from immigration police into drug investigators.

Mexican drug syndicates have adopted the new strategy of sending more people across the border with lower drug amounts instead of fewer people carrying heavier loads. That method decreases the likelihood of a harsh prison sentence but increases the need for mules, which are not so difficult to find when a bad US economy – combined with strict drugs laws - proves advantageous to criminal networks.
Smugglers are generally paid $300 for a one-time transport of a 1,000 to 1,500 pound load of marijuana across the border. That cargo, which could cost a mule years in prison, is worth an estimated $100,000 to traffickers.

"With the economic downturn, you just have pools of people out of work," Arizona defense attorney Jeffrey Bartolino told CIR. "The great majority that are caught with 100 kilos or 150 kilos in a car or truck are people that are hired that days or the week before and they needed money."

You can share this story on social media: