Early May snowstorms hit midland US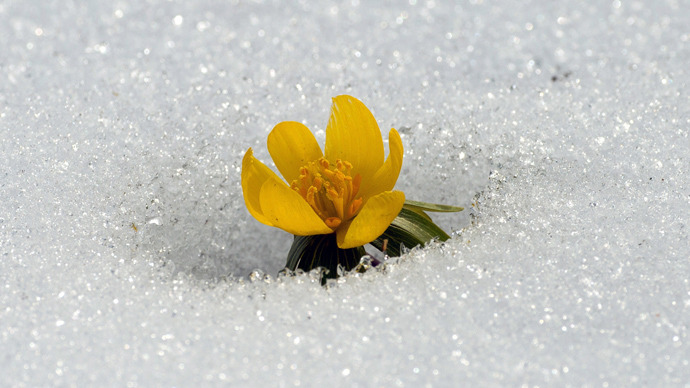 While some Americans are getting ready to head to the beach, others are buttoning up and enduring another snowstorm that has already caused power outages, flight cancellations and icy roads across the Midwest.
The May Day storm has buried several Midwest states in snow that in some areas is more than 20 inches deep. Denver's airport reported about 50 flight cancellations and delays due to icy runways, and several crashes were reported along Interstate 80 in southeast Wyoming. Southeast Minnesota reported that more than 26,000 customers experienced power outages due to fallen trees and power lines.
In Owatonna, Minn., Interstate 35 was closed early Thursday, due to dangerous conditions and fallen power lines. Ellsworth, Wis., reported snowfall of about 14 inches, while 9 inches had fallen in Dodge County, Min., on Thursday.
Rocky Mountain National Park saw more than a foot of snow by midday Wednesday, while Buford, Wyoming experienced 20 inches.
Sioux Falls, South Dakota, experienced its first May snowfall in 37 years. Some residents welcomed the wet weather, expressing hope that it will combat the effects of a state-wide drought.
"Well it's a little different on May 1 – usually you are getting May baskets, and I guess we got a May basket by the snow. I think we need the snow and the moisture, I don't think anyone should be upset about it," Sioux Falls resident Jack Dyvig told KELOLAND.
Local meteorologist Scott Mundt told the news station that this is the seventh time in the past 120 years that Sioux Falls has received measurable May snow.
The snowfall took homeowners by surprise, some of which had never had to wear scarves and hats before in May. Some cities had already packed away their shovels and ice salt.
"This is a record for me," Brian Wagstrom, director of public works in Minnetonka, Minn., told NBC affiliate KARE. "This is the latest that we have ever put plows on this time of the year."
Jim Eulberg, director of public works in Worthington, South Dakota, told NBC that his crew was not prepared to plow snow this late in the year.
"When you're looking at the calendar, you're thinking this isn't the stuff we should be doing. Not dealing with ice storm damage and plowing," he told NBC affiliate KDLT.
And while the Midwest is experiencing record snow and ice, Californians are trying to extinguish wildfires that have already burned down 3,000 acres of vegetation, injured two firefighters and destroyed a home – a start contrast to the frozen conditions experienced just a few states next door.
The storm is continuing to spiral eastward, and flakes are expected to be seen as far south as Missouri and Arkansas before the week's end.