Matt Damon angry with Obama
Published time: 4 Mar, 2011 18:18
Edited time: 4 Mar, 2011 22:14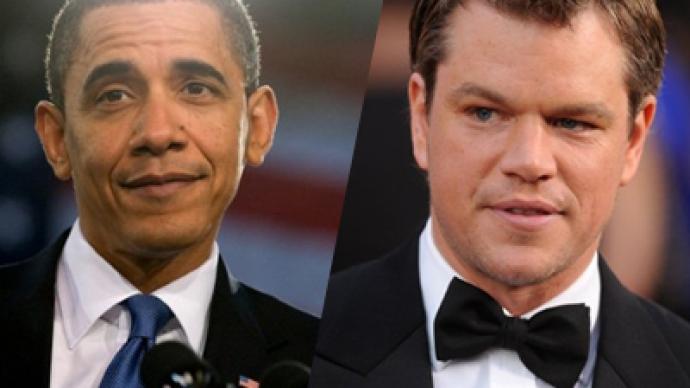 Simply put, actor Matt Damon is no longer a 'fan' of US President Barack Obama.
In an interview with CNN's Piers Morgan the actors said, "He [Obama] misinterpreted his mandate. He's doubled down on a lot of things."
"In his State of the Union he didn't even say the word 'poverty,'" said Damon. "You've got millions of people languishing in it."
Once an active support of the President, Damon explained that he appreciates the President's knowledge and intellect, but wanted to see more accomplished.
In the interview Damon spoke on politics, Afghanistan and a number of issues. Damon explained he believed the mission in Afghanistan had not been properly articulated.
"I think it would help to kind of reframe the way we're thinking about being there and why we're there," he commented.
Moving along to discus Wall Street reform, Damon argued policies thus far have been "dangerous" and "shameful" and said without meaningful reform another financial crisis would happen again.
In the past Damon's support of Obama was as well known as his distaste for Sarah Palin. While his views on Obama have shifted, his on Palin have not.
It would be reckless to have someone like her "literally a heartbeat away from the presidency," he said. "She's not somebody who I would vote for"
While very opinionated and passionate about politics, Damon has no interest in throwing his own hat in the ring. His focus is on acting and his humanitarian work with Water.org.
"I love my job. I love making movies," he added. ""I feel like the work I do now allows me to change things."