Native Americans fight to ban marijuana in a quarter of Washington state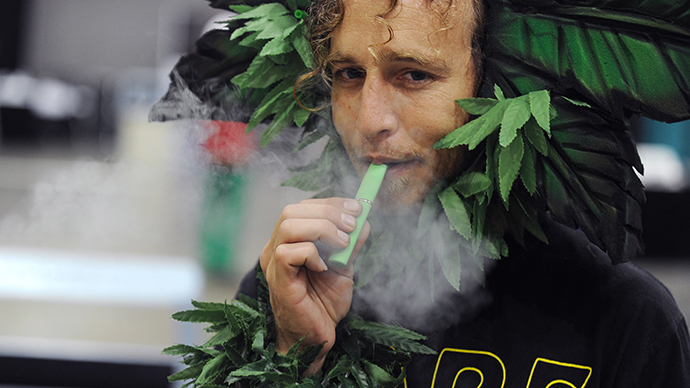 The Yakama Nation tribe of Native Americans is ramping up its efforts to ensure a new law legalizing recreational marijuana in Washington state won't apply on ancestral land.
Voters in 2012 elected to abolish the prohibition against pot in both Colorado and Washington states, but the latter is only this month issuing its first legal weed licenses to dispensaries that will grow and process marijuana. If the Yakama Nation has its say, however, then a large chunk of Washington will reject the new state law.
The 10,000-member Yakama Nation has already said pot will stay illegal on around 1.2 million acres of reservation in central Washington where state law is trumped by local rules, but Reuters reported this week that the tribe is considering "a bold move that could test the limits of tribal sovereignty" by seeking to keep weed outlawed on another 10.8 million acres of ancestral land.
According to Reuters journalist Jonathan Kaminsky, the Yakama want to make sure the cultivation and selling of marijuana remains against the law on a huge stretch of Washington that was ceded to the United States government through an 1855 treaty, but where the tribe members maintain hunting, food-gathering and fishing rights.
The Yakama has previously won similar legal battles, Kaminsky wrote, including one in which it successfully fought off efforts to put a landfill on the ceded land. This time, however, the tribe wants to make sure marijuana remains outlawed on a chunk of land that now includes parts of 10 counties across the state.
Already, Kaminsky acknowledged, the Yakama have filed challenges to roughly 1,300 pending marijuana licenses being considered in that part of the state. If the tribe's efforts fail, he added, then the Yakama may file suit.
In an editorial published by the Seattle PI newspaper last year, Nation Chairman Harry Smiskin said "The citizens of the state of Washington do not have the authority to vote what happens on Yakama lands."
"It is that simple," Smiskin said. "The Yakama Law and Order Code prohibit the sale, use or production of marijuana on the lands we control. We are constantly finding very sophisticated grows and ending them. Our police have won federal awards for this work. We are proud of our efforts. We do not want our people, or anyone else, to use, grow or sell marijuana on our lands."
"We have had a long and unpleasant history with marijuana — just as we have had with alcohol," Smiskin added. "We fight them both on our lands."
"We're merely exercising what the treaty allows us to do, and that is prevent marijuana grows (and sales) on those lands," he told the Yakima Herald-Republic back in January. Since then, the Yakama have filed around 1,000 additional objections with state and federal governments against marijuana license applicants, indicating that the tribe has without a doubt refused to relinquish its fight.
According to some, though, those challenges won't end up the way the Yakama want them to.
"I think they run into the issue of not having standing to, in essence, bring suit on behalf of the federal government," American Civil Liberties Union Washington criminal justice director Alison Holcomb Holcomb told the Associated Press earlier this year. "The federal government at this time has shown it has no intention of trying to stop the law."
Yakima, WA Councilman Bill Lover, who opposes pot businesses, told Reuters for this week's report that the Yakama's plan could put a lot of other issues at stake.
"When they start talking about ceded land, there's a lot of other things involved other than marijuana, like water rights," he told Kaminsky.
"It's a steep hill they're trying to climb," added Ron Allen, the chairman of the Jamestown S'Klallam Tribe in western Washington where pot use remains banned on reservation land. "But I recognize their right to try to control the environment their community lives within."
The Washington state Liquor Control Board has previously ruled that no marijuana licenses will be issued to business on federal land, including Indian reservations, but did not address ceded grounds like the 10-million acres now being discussed. Meanwhile, the first recreational marijuana dispensaries became licensed by Washington state on March 6, and retail stores are expected to open in late June.
In Colorado, where the nation's first legal weed shops opened on January 1, the state managed to collect around $ 2 million in taxes within the first four weeks of operation.
You can share this story on social media: