Colorado and Washington prepare to face off with feds over marijuana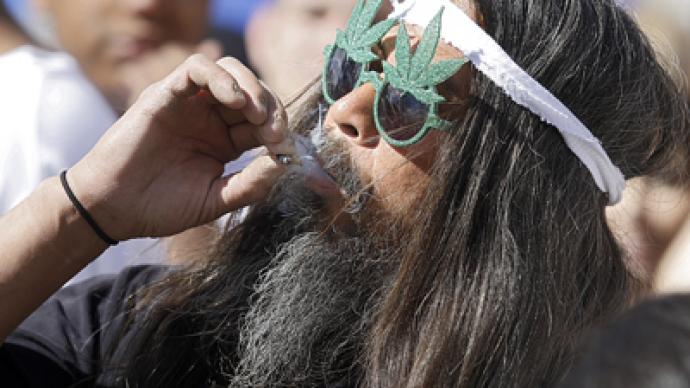 Colorado and Washington became the first states in the US to legalize the recreational use of marijuana this week, but the win for weed advocates is likely to be challenged by the feds as nation-wide legislation outlawing the drug still stands.
Voters in both states elected to pass separate laws this week that essentially make legal the small-scale possession and use of marijuana, but the US Department of Justice is already tasking itself with an investigation to see how to proceed once prohibition formally ends in Washington and Colorado.As of December 6 in Washington and January 5 in Colorado, residents will be allowed under state law to possess limited amounts of marijuana. Nationwide, 17 states and the District of Columbia have legalized marijuana for medicinal purposes already, but nowhere in the United States has possession or use been allowed without a doctor's prescription, nor with the backing of the federal government. The topic of medicinal marijuana has already been a headache for the Justice Department since states first starting allowing physicians to sign off on pot scripts, beginning with a measure approved in California back in 1996. Now a doctor's note won't be necessary in Washington or Colorado, all but certain to spark a whole new battle over the states' rights to govern locally without federal interference. In the meantime, though, this week's election's impact on the war on drugs and American culture is something that won't be known until it plays out."To put this into historical context, there is no historical context. It's the first time any state has ever voted to legalize marijuana — and two of them did it," says Tom Angell, a spokesperson for Law Enforcement Against Prohibition.The next step now is to see how the Justice Department reacts, but so far their only statement has revealed that the Drug Enforcement Administration's "enforcement of the Controlled Substances Act remains unchanged." Currently, federal law considered marijuana in the same category of drug as cocaine, heroin and methamphetamine.Washington Gov. Chris Gregoire told KUOW radio on Wednesday that "The jury is out on what happens," adding, "Meanwhile, my job as governor is to do what the people of the state of Washington have said they want done." Even if Gov. Gregoire says he will fight this battle on behalf of his state, he suggests no one is quite certain yet about what will happen next. "Because marijuana is still illegal at the federal level, we are unsure how the federal government will proceed," he says.U.S. Rep. Jay Inslee – considered largely as the frontrunner in the race replace Gov. Gregoire during the next election — adds to Seattle PI, "Our voters have spoken:There is not an urgent national security reason not to respect the will of our voter."According to the Seattle Times, Washington Attorney General-elect Bob Ferguson says, "I'm 100 percent looking forward to defending the will of the people and will defend it vigorously," but how exactly that will stand up to potential federal challenges is unknown. "It's an important state's rights issue about whether a state can have a law that is inconsistent with the federal Uniform Controlled Substances Act," King County Washington Prosecutor Dan Satterberg tells Seattle PI, referring to the key federal drug law. "I expect it's the kind of case that would go all the way to the Supreme Court."Even before making it the judges' quarters, the Obama White House might want to ramp-up federal prosecutions, some suggest."They are facing an uphill battle with implementing this, in the face of … presidential opposition and in the face of federal enforcement opposition," former adviser to the Obama administration's drug czar, Kevin Sabet, tells reporters.Just recently in September, nine former administrators with the DEA sent a letter to Attorney General Eric Holder urging him to intervene in the latest proposal. "To continue to remain silent conveys to the American public and the global community a tacit acceptance of these dangerous initiatives," the former DEA agents agreed. "We urge you to take a public position on these initiatives as soon as possible."Paul Armentano, the deputy director of the pro-marijuana NORML group, says he doubts federal enforcement will occur to the degree that opponents of the law suggest."The passage of these measures strikes a significant blow to federal cannabis prohibition," Armentano writes in a statement this week. "Like alcohol prohibition before it, marijuana prohibition is a failed federal policy that delegates the burden of enforcement to the state and local police. Alcohol prohibition fell when a sufficient number of enacted legislation repealing the state's alcohol prohibition laws. With state police and prosecutors no longer engaging in the federal government's bidding to enforce an unpopular law, the federal government had little choice but to abandon the policy altogether. Today, history begins to repeat itself." Betty Aldworth, a spokesperson with Colorado's Amendment 64 campaign and a proponent of the just-passed law, tells Seattle Times that, "At this point, we are cautiously optimistic that the federal government will respect the will of voters in Colorado and Washington and allow us to regulate marijuana as we best see fit."Amendment 64 passed with 54.7 percent of the vote in Colorado; in Washington, initiative 502 passed with the support of 55.4 percent of the voting public.
You can share this story on social media: