Smoke em if you got em! Marijuana now legal in Washington State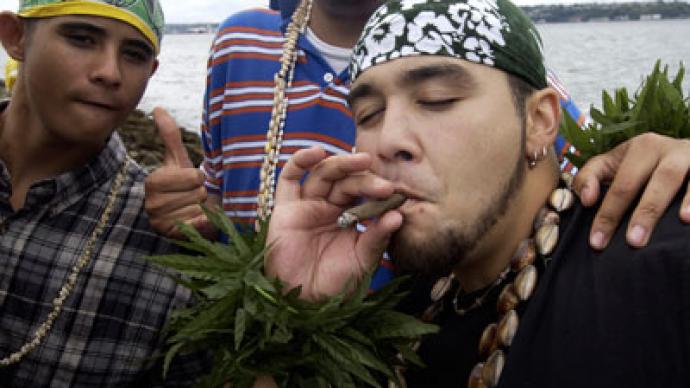 Thursday morning was the dawn of a new era for pot-smoking Washingtonians, as state law finally approved the personal possession of up to one ounce – or roughly 28g – of marijuana, making it the first US state to fully legalize the drug.
Washington voters shocked the nation last month by voting for Initiative 502 (I-502), which legalizes the possession of up to one ounce (28g) of marijuana for personal use. Under the initiative, all penalties for marijuana possession and use have also been abolished.
Many users said they would be gathering around various public areas across the state to celebrate the landmark ruling – by breaking the law. Public marijuana use is still illegal, but the fine for smoking weed in public carries the same fine as publicly consuming alcohol.
I-502, approved by a 55.5 percent majority, will make Washington the first US state to officially legalize recreational marijuana use in the US. State penalties for possession will be eliminated, and excise taxes like those applied to alcohol and tobacco sales will be enacted.
A similar measure passed in Colorado will be implemented no later than January 6.
Although Washington's new law legalizes possession of up to an ounce for those over 21, selling marijuana remains illegal.
I-502 gives Washington a year to come up with a system of state-licensed growers, processors and retail stores. It plans to tax every stage at 25 percent. Analysts say it could bring Washington hundreds of millions of dollars annually in new tax revenue.
But I-502 also puts Washington at loggerheads with the federal government: Despite record levels of support for nationwide legalization, it is still illegal under federal law to carry or use any amount of marijuana.
Pot is considered a 'Schedule I' narcotic under the Federal Controlled Substances Act, putting it in the same category as heroin. This means federal agents can still arrest people for it, and it remains banned from federal properties, including military bases and national parks
But I-502 is going into effect at a time when national support for legalization is at an all-time high.
A national poll conducted by Public Policy Polling (PPP) from November 30 to December 2 showed that 59 percent of US voters believe marijuana should be legalized, while only 39 percent do not. Half of respondents also expected that marijuana will become legal under federal law within a decade's time.
The Obama administration has thus far made no mention of how it will react to the measure, though the White House has repeated on numerous occasions that it remains "firmly committed to enforcing the Controlled Substances Act."
Washington Governor Chris Gregoire recently met with Deputy Attorney General James Cole at the Justice Department, though he came away with no answers.
"They said they were reviewing it," the Washington Post cites Gregoire's spokesperson Cory Curtis as saying Friday. "They didn't give us a timeline when they would provide clarity."
Steve Fox, director of government relations for the Marijuana Policy Project, argued that Obama would be working against the popular will and the greater good if the federal government attempted to continue with its "failed policy of marijuana prohibition."
"The increasingly strong national support for making marijuana legal demonstrates that the writing is on the wall," Fox said. "Marijuana prohibition's days are numbered. The Obama administration cannot stop history. If it interferes in the implementation of these new laws, it will only unnecessarily prolong the chaos of an uncontrolled market. The time for state-regulated systems of marijuana cultivation and sales is here."