Manny Pacquiao refuses to fight in the US due to high taxes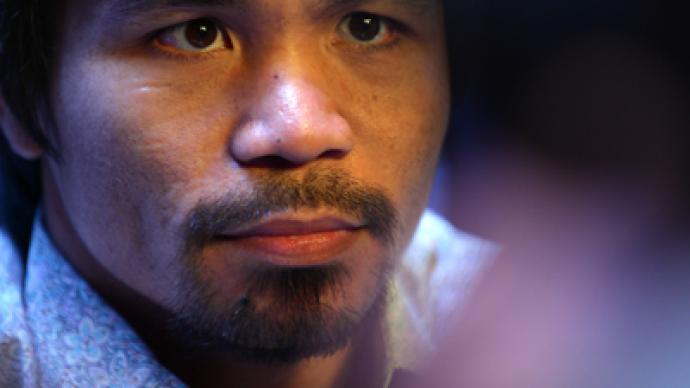 Boxing superstar Manny Pacquiao will make millions no matter where he chooses to have his next professional bout, but the athlete is reportedly not interested in entertaining any offers at American venues.
Advisors to Pacquiao, a 34-year-old Filipino professional boxer with a slew of international titles under his belt, say the sports star will refuse any offers to fight in the United States because of the extraordinarily high tax rate his winnings would be subjected to. If his next bout is scheduled within the US, Pac-Man is expected to pay nearly 40 percent of whatever he makes to Uncle Sam.Pacquiao is expected to go up against challenger Juan Manuel Marquez sometime during 2013, an event that would be the fifth fight between the two rivals. But while Las Vegas, Nevada is normally the likely site of a big-name boxing match, Pacquiao would have to pay 39.6 percent of whatever he earns just for showing up."He says that he doesn't want to fight in the United States because of the high taxes which I can hardly blame him," promoter Bob Arum told ESPN recently. "You know, there's a limit to what these guys wanna pay, you know, that's almost 40 percent of his purse going for taxes, that's a lot," he said.According to Yahoo! Sports, Pacquiao chief advisor Michael Koncz said that the 39.6 percent tax rate the fighter would face makes a bout in Las Vegas this fall "a no go." Now according to some reports, the athlete may instead opt to have his rematch in Far East."Manny can go back to Las Vegas and make $25 million, but how much of it will he end up with – $15 million?" Arum added. Instead, it's now being speculated that an event could be scheduled at the offshore Chinese gambling resort of Macau, which has a comparably meager tax rate of only 12 percent."If he goes to Macau, perhaps his purse will only be $20 million, but he will get to keep it all, so he will be better off," Arum said.Singapore is also being considered a possible venue, where a top marginal income tax rate of 20 percent is only one-half of what Pacquiao would have to pay in the US. ESPN says that Dubai in the United Aram Emirates is also a possibility, but at this point odds of any bout in the US seem unlikely: earlier this week, Nevada State Athletic Commission (NSAC) Executive Director Keith Kizer confirmed that Pacquiao has yet to file to fight in that state this year.A report published earlier this week revealed that more than 1,100 Americans renounced their citizenship and made their homes elsewhere during just the first three-quarters of 2012, and incoming data suggests that year-end total of expats will exceed that of 2011."If you don't mind where you live and the tax becomes excessive, then leaving might be a good choice," Nigel Green, CEO of deVere Group, told Yahoo! Finance.
You can share this story on social media: