Obama tries to avert disastrous sequestration with smaller budget deal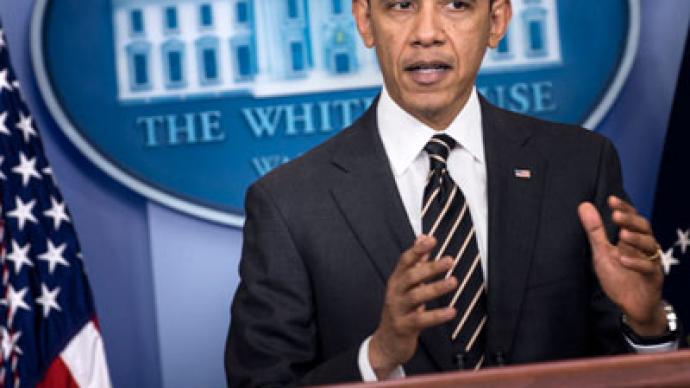 United States President Barack Obama insisted on Tuesday that the triggering of automated spending cuts slated to begin next month could pose grave consequences for the country's economy.
Pres. Obama spoke to reporters in the White House Tuesday afternoon to make a brief address regarding sequestration, the planned automatic spending cuts that are expected to save around $1 trillion instantly starting March 1. With the Defense Department and private sector slated to be hit the hardest by the sequester, Pres. Obama urged his colleagues in Congress to intervene before the deadline in order to avoid any impending problems. According to the president, the answer could come by way of a compromise worked out in Capitol Hill that would involve sacrificing some scheduled cuts in exchange for others."If Congress can't act immediately on a bigger package, if they can't get a bigger package done by the time the sequester is scheduled to go into effect," Pres. Obama said, "then I believe that they should at least pass a smaller package of spending cuts and tax reforms that would delay the economically damaging effects of the sequester for a few more months until Congress finds a way to replace these cuts with a smarter solution.""There is no reason that the jobs of thousands of Americans who work in national security or education or clean energy — not to mention the growth of the entire economy — should be put in jeopardy," Obama stated. Days earlier, the president went on CBS News to advocate the closing or reducing of tax loopholes and deductions, saying, "There is no doubt we need additional revenue, coupled with smart spending reductions in order to bring down our deficit."As recently as November, the president said he was not responsible for the sequester and that he would not let it occur under his watch. In an op-ed published this week in the Washington Post, however, reporters there cite the president's claim as being significantly factually erroneous. Speaking only moments before the president's remarks, House Speaker John Boehner said, "We believe there is a better way to reduce the deficit, but Americans do not support sacrificing real spending cuts for more tax hikes.""The president's sequester should be replaced with spending cuts and reforms that will start us on the path to balancing the budget in 10 years," added Speaker Boehner. But while Pres. Obama urged Congress to compromise on a smaller package of deals and cuts on Tuesday, he neglected to publically reveal what he had in store."Let's keep on chipping away at this problem together, as Democrats and Republicans, to give our workers and our businesses the support that they need to thrive in the weeks and months ahead," Obama said. Last month, Alan Krueger, head of President Obama's Council of Economic Advisers, cited the looming sequestering as the reasoning behind an unexpected drop in America's GDP. "A likely explanation for the sharp decline in federal defense spending is uncertainty concerning the automatic spending cuts that were scheduled to take effect in January, and are currently scheduled to take effect on March 1st," Krueger wrote in a White House blog post. Should sequestration be triggered, as it currently stands the country will scale back domestic and defense spending to the tune of around $1.2 trillion during the next decade.
You can share this story on social media: