Congress to cut 9/11 first responders' benefits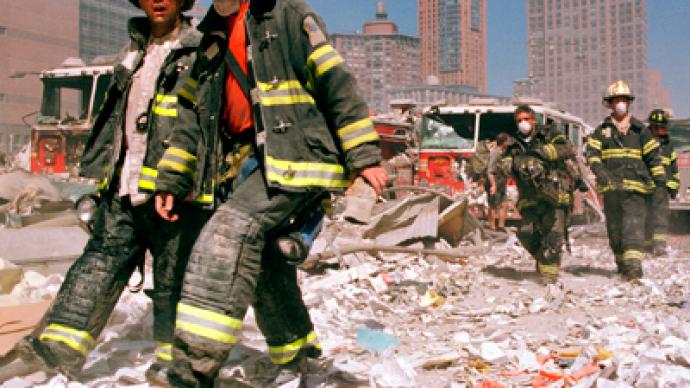 Only days after a national health care act was expanded to provide coverage to September 11 first responders that have been diagnosed with cancer in the wake of the terrorist attacks, the future of the federal plan is now up in the air.
When US President Barack Obama signed his name to the James Zadroga 9/11 Health and Compensation Act in early 2011, he authorized the government to assist with medical bills incurred by emergency workers who have developed problems in the years since the World Trade Center was destroyed in 2001. Under automatic budget cuts expected to start next year, though, the health care program could be drastically cut short and stripped of millions of dollars in funding.
Under current plans, the automatic sequestering expected to save the country $1.2 trillion over the next ten years will do so by significantly trimming funding from the Zadroga Act. Huffington Post reports that $38 million worth of aid could be cut from the program in 2013 alone, with as much as $300 million in assistance being lost altogether over the current planned lifespan of the program.
Zadroga, a NYPD officer that responded to the Twin Towers after the attack, passed away in 2006 from illnesses he is suspected to have picked up while working in the toxic ruble after 9/11. Roughly 20,000 gallons of jet fuel, 100,000 tons of organic debris and 100,000 gallons of heating and diesel oil were ignited on 9/11 after two airlines collided into both towers at the World Trade Center, NBC News reports.
On the anniversary of the attacks only one week ago, the government added around 50 different types of cancers to the list of diseases covered under the act that now bears Zadroga's name, but the automatic budget cuts expected to occur next year are expected to drastically defund the program and leave survivors once more scrambling to pay for medical bills and routine cancer screenings, which would otherwise be covered under the bill.
"This is unacceptable," John Feal, a construction worker who lost half his foot at Ground Zero in the cleanup, tells Huffington Post. "This is just another slap in the face from Washington, D.C."
"Last week, Republicans and Democrats talked about remembering 9/11 and unity all across the nation, and all that patriotic stuff, and now we're getting this thrown on our lap," he says.
"We just got cancer added, and we don't even know if we have enough money for cancer, and they want to take money away from us."
Democratic Senator Kirsten Gillibrand, a state lawmaker for New York, voted against the sequester and now explains to HuffPo how Congress' shortcut to pay the country's bills is burdening Americans who have long been victimized.
"Nothing exemplifies this unbalanced and draconian approach to deficit reduction more than asking our heroes who have already sacrificed so much to sacrifice yet again so that Republican leadership could appease their special interests. Our 9/11 heroes who answered the call of duty should be treated with the same dignity as our veterans. We need to come together and work towards a balanced approach that keeps struggling families from sacrificing the most," she says.
You can share this story on social media: