Manning trial a prelude to Assange's extradition to US?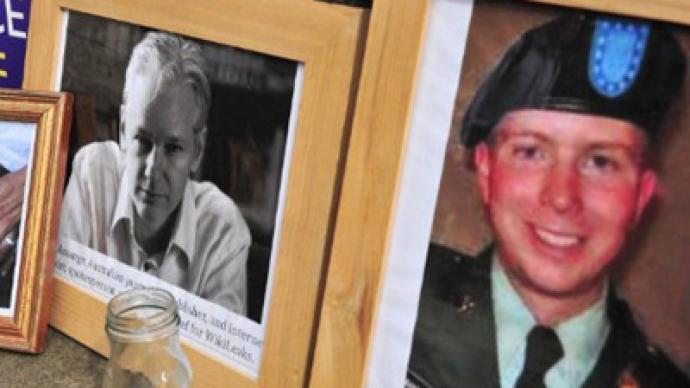 Military officials have introduced evidence into the pre-trial hearing against alleged WikiLeaks contributor Bradley Manning with the whistleblower site's mastermind Julian Assange.
While a tie between the two would allow the prosecution to pursue Private First Class Manning's alleged suspected involvement in sending Assange top-secret military files, it could finally give the US a reason to extradite the WikiLeaks's runner to the States.American authorities have long attempted to tackle Assange for his role in WikiLeaks, a website that the US government insists has aided the enemy by publishing files that would otherwise be left for only a few Army intelligence personnel to see. According to America, any involvement Manning had with WikiLeaks could have caused great harm to the nation and a military tribunal is currently questioning witnesses to see if the case should continue before a jury. By formally introducing Assange into the equation, however, the government could be finally getting its chance to go after the WikiLeaks leader.Currently under house arrest in England, Australia-born Assange is facing extradition to Sweden where he is wanted on charges stemming from allegations of a sexual assault against two former WikiLeaks volunteers. Currently the UK's legal system is keeping Assange safe from extradition to America, but should Assange end up on trial, Sweden might be quick to send the whistleblower to America so he could stand trial in the Manning case — and perhaps much more."People think that because Sweden is a Western country that they have a legal system the same as ours, that's completely untrue," Assange's mother told AAP last month. "From the time he hits Sweden, he is going to be lost to any kind of observation from anybody to understand if his human rights are being breached.""He's been crucified for doing what he was brought up to do," added Christine Assange.American officials critical of WikiLeaks have hunted for Assange since before he aided in the release of thousands of classified diplomatic cables earlier this year that they say compromised American security and intelligence — former presidential hopeful Mike Huckabee even went as far as to wage the death penalty against Assange. As evidence in the Manning case ties the soldier with Assange, those charges could come sooner than Assange would like to see. A former Obama administration official speaking under condition of anonymity tells Reuters that the US has long sought Assange, but could not go after him without going after the slew of newspapers that he leaked documents to as well. "The government is very serious about wanting to prosecute him. But they have never been able to find a way to do it. How do you prosecute Julian Assange and not the New York Times?" asks the official.During Manning's trial on Monday, the prosecution against the alleged whistleblower introduced computer logs which they say show that the soldier had contact information with Assange and had instructions on how to upload files to WikiLeaks. On Tuesday, Adrian Lamo, the hacker that turned Manning in to the government, also drew connections between the two. In speaking of his own relationship with Manning, Lamo told the courtroom, "I believe that he was reaching out for affirmation and for a like-minded individual that would act as a similar figure in their life as Julian Assange." When Staff Sergeant Peter Bigelow was asked about Assange, however, he admitted to the court that he had no idea who the man was. Given that searches of Assange's named were carried out on a computer owned by Sgt. Bigelow, the denial does little to help the case of the Manning — nor does it show how up-to-snuff US military intelligence has been.Manning is facing life in prison for nearly two dozen charges related to his alleged works with WikiLeaks. On Tuesday, Daniel Ellsberg, the former DoD insider that leaked the Pentagon Papers towards the end of the Vietnam War, called Manning a personal "hero" of his to RT.
You can share this story on social media: