Majority of Americans want troops out of Europe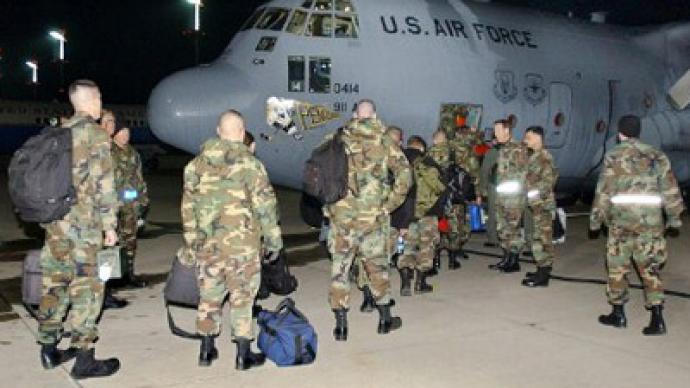 The ongoing opposition to America's war in Afghanistan continues to grow, and now the results of a new poll suggest that US citizens are getting fed up with even nonviolent operations overseas.
According to findings published this week by Rasmussen Reports, more than half of the United States is in favor of pulling American troops from Western Europe, where the country's forces are not engaged in any formal wars.
Of those polled by researchers with Rasmussen, 51 percent say that they are in favor of emptying all US bases across the pond. Only 29 percent are opposed to ending those operations, and 20 percent say that they are undecided on the matter.
The results of the study come from a recent telephone survey answered by 1,000 US voters who say they plan on casting a ballot in the upcoming 2012 presidential election. There is only a 3 percent margin of sampling error in the study, suggesting that — even accounting for a statistical gaffe — the majority of Americas want to see the country abolishing unpopular military operations.
In recent years, US President Barack Obama has scaled back the presence of US troops in Western Europe, but American forces are still widespread and stationed at practically all corners of the globe. His presumptive opponent come Election Day, Massachusetts Governor Mitt Romney, has attacked the incumbent over his reluctance to build up America's foreign bases.
The president and the Pentagon have both touted a Defense Department budget that stands to save the military billions over the next few years, but Romney has vowed to challenge those plans if elected.
"I will reverse Obama-era military cuts. I will not allow runaway entitlement spending to swallow the defense budget as has happened in Europe and as President Obama is now allowing here," Romney says in a recent Chicago Tribune op-ed.
According to the latest Rasmussen Reports poll, however, the majority of Americans appear to be opposed to Romney's revamping of the defense strategy. It also suggests that, as long as he remains in the race, Romney's top GOP contender might be able to garner support from right-leaning voters that disagree with the governor's agenda. Congressman Ron Paul (R-Texas) is still competing against Romney for the GOP nod and has repeatedly campaigned on removing US troops from bases across the world.
"We're in 130 countries. We have 900 bases around the world. We're going broke," Paul said during a televised debate in September.
"The American people are sick and tired of the wars going on over there, we are going broke fighting these wars that are not legitimate in that we were not attacked, they were not declared, and the American people in their majority want us out of there," the congressman told CNN this past March while demanding a prompt end to the Afghan War.