Most Americans believe illegal immigrants should be deported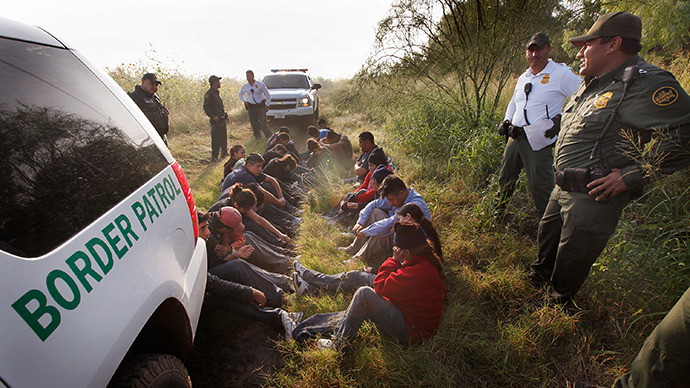 More than half of US citizens believe that "most or all of" America's 11 million illegal immigrants should immediately be deported back to their home countries, with only 5 percent of Americans believing they should stay.
Despite lawmakers' extensive efforts to reform the US immigration system, the online survey conducted by Reuters and Ipsos sheds a new light on the extent of American opposition to giving illegal immigrants a path to citizenship.
Thirty percent of responders said that most illegal immigrants should be deported, while 23 percent said that all illegal immigrants should be deported. Among those who consider themselves Republicans, 75 percent think all or most immigrants should be deported. And a surprisingly low number of Americans believe all illegal immigrants should have a path to citizenship: five percent of responders support such an option, while the remaining 31 percent believe most illegal immigrants should have this opportunity.
The high number of Americans who want illegal immigrants deported may be surprising, but Ipsos pollster Julia Clark told Reuters that the views have not recently changed, but the topic has simply come into the forefront of political discussion.
"It's not Americans' views that are shifting. It is that the political climate is ripe for this discussion," she said.
"Democrats feel that the time is right to capitalize on their wins and Republicans feel that they had a bad blow and are eager to reach out to Hispanics," she added, referring to the November election in which the overwhelming majority of Hispanic Americans voted for President Barack Obama.
Other polls show that most Americans are supportive of immigration reform. But while some advocate for a path to citizenship, others campaign for tighter border security to altogether prevent illegal immigration.
The Reuters poll takes a new look at an ongoing issue at a time when senators have proposed a full path to citizenship for illegal immigrants who pay the taxes they avoided, as well as a fine. The bipartisan bill, which is the first major attempt at immigration reform since 2007, would boost border security as well as allow illegals to apply for US citizenship.
President Obama is also working on a bill that would allow undocumented immigrants to become citizens in eight years. But Republicans have expressed stark opposition to the White House initiative, calling it a reward for those who violated US law.
As policymakers continue to debate on how to tackle the issue of illegal immigration, the attitude toward immigration reflects the divisions between  Americans on a matter that increasingly carries more weight in politics as Hispanic-Americans progressively affect the outcomes of elections.
You can share this story on social media: