The Case of the Confidential Confetti: Private police records dropped over crowd at Macy's parade
Published time: 25 Nov, 2012 20:38
Edited time: 26 Nov, 2012 00:38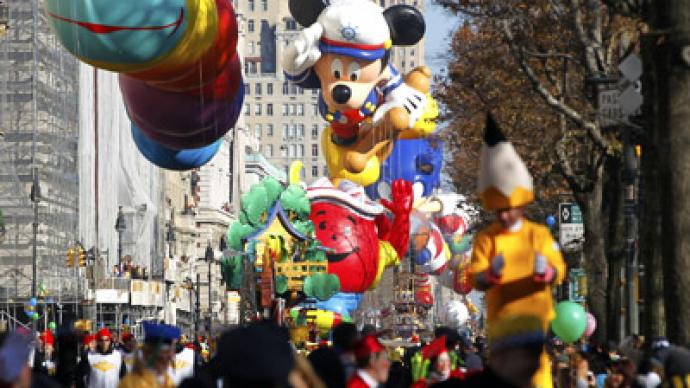 A New York police department is in trouble after its confidential documents were used as confetti in the city's Macy's Thanksgiving Parade.
Crowds standing alongside the signature floats and balloons during one of America's biggest annual spectacles were bemused when confetti that turned out to be badly-shredded official records began landing on their clothes.
The documents, many of which were imprinted with the letterheads of the Nassau Police Department, contained social security numbers, addresses and license numbers.
More disturbingly, some of the recovered pieces appeared to be fragments of police reports, and private staff records – including those listing undercover officers.

One even detailed the route to be used by Mitt Romney during a presidential debate last month.
"I'm just completely in shock," Ethan Finkelstein, one of the first to notice the unexpected paper shower, told local PIX 11 television.
"How could someone have this kind of information, and how could it be distributed at the Thanksgiving Day Parade?"
Indeed, the provenance of the unusual ceremonial decorations remains a mystery.
Parade organizers Macy's say this is not official confetti designated for the procession, as it normally uses "commercially manufactured, multicolor confetti, not shredded paper."
Nassau County Police have admitted that the documents belong to them, but say they have no idea how they found their way to the crowd.
"The Nassau County Police Department is very concerned about this situation. We will be conducting an investigation into this matter as well as reviewing our procedures for the disposing of sensitive documents," said Inspector Kenneth Lack.
Confetti is left on a utility access cover after the Macy's Thanksgiving Day Parade in New York November 22, 2012. (Reuters/Carlo Allegri)
A Spiderman balloon float makes its way down 6th Ave during the Macy's Thanksgiving Day Parade in New York November 22, 2012. (Reuters/Carlo Allegri)
Cheerleaders make their way down 6th Ave during the Macy's Thanksgiving Day Parade in New York November 22, 2012. (Reuters/Carlo Allegri)