Louisiana petrochemical plant fire: LIVE UPDATES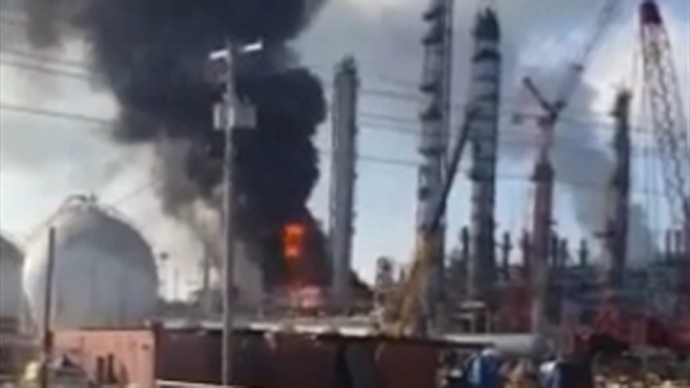 A large explosion shook a petrochemical plant in the industrial district of Geismar in Louisiana on Thursday morning. Numerous burn victims have been taken to hospital, and one person has died.
The Williams Olefins plant, opened in 1999, produces two widely-used explosive compounds, propylene and ethylene.
Read RT's full story about the Louisiana plant fire.
18:55 GMT: Governor Bobby Jindal says that 73 people were taken to hospital following the fire. He also says that no dangerous emissions have been released, but authorities are still testing the air quality.

18:01 GMT: Louisiana police have confirmed that one person has died as a result of the injuries sustained in the explosion.

17:57 GMT:  Acadian Ambulance say they have now transported 60 injured people. 47 were driven to medical units, and 13 had to be airlifted rapidly.

17:53 GMT: 8 people are being treated in Baton Rouge General Hospital, with one in critical condition.

17:25 GMT: Louisiana State Police say that the fire in the plant has been extinguished.

16:51 GMT: Here is another picture of the fire from earlier this morning.
New picture of #Geismar plant fire from Robby Taylor. twitter.com/stevecaparotta…

— Steve Caparotta (@stevecaparotta) June 13, 2013
16:27 GMT: Louisiana State Police say that the road closures will stay in place "until further notice".

16:26 GMT:  The Louisiana Department of Environmental Quality says that the total number of those injured in the blast is 33, WAFB reports. 30 were taken by ambulance, and three airlifted. The total number of those in the plant at the time of explosion is estimated to be around 600.

16:25 GMT: The Ascension Parish Emergency Operations Center has a opened a phone line for those worried about family members. The number is 866-380-2303.

16:19 GMT: AP reports that the number of those hospitalized has gone up to 30, according to officials. 
At least 30 victims hospitalized after Geismar plant explosion: wwltv.com/news/Chemical-…. Pic: twitter.com/WWLTV/status/3…

— WWL-TV(@WWLTV) June 13, 2013
16:03 GMT: Although by-products of the chemicals at the plant can be toxic at high concentrations, Louisiana State Police are saying they are not currently a "public threat".
15:54 GMT: Local ABC affiliate reports:
LSP says NO fatalities reported at Geismar plant explosion.

— WBRZ News (@WBRZ) June 13, 2013
15:51 GMT: An update from the private ambulance company on-site:

Plant explosion update: Transported 6 patients by air & 4 by ground thus far #Breaking#News#Louisiana#Geismar

— Acadian (@AcadianNews) June 13, 2013
15:43 GMT: Baton Rouge station WAFB reports that 6 staff have been airlifted to hospital by helicopter to be treated for burns.

15:39 GMT: Louisiana Emergency Operations Center is refuting figures of 7 fatalities that appeared in earlier news reports. 
15:35 GMT:  Louisiana Department of Environmental Quality and Environmental Protection Agency say that they are monitoring the air quality, but do not yet know if any dangerous chemicals have escaped.
Spokesperson Jean Kelly has said "we're just in the very beginning of this."

15:34 GMT:  There is a two-mile shelter around the plant. Roads LA 30 at LA 74, LA 30 at LA 73, LA 74 at LA 3115, and LA 75 at LA 3115 have also been blocked off, with police suggesting locals use alternative routes.

15:28 GMT:
Staging area for injuries from plant explosion. @wbrz twitter.com/Rob_Krieger/st…

— Rob Krieger (@Rob_Krieger) June 13, 2013
15:27 GMT: Louisiana Emergency Response Network say that there are 25 injured, but currently no fatalities as a result of the explosion.

15:25 GMT:
Emergency responders are staged at HWY 3115 and 74 in Ascenion Parish twitter.com/CherylMercedes…

— Cheryl Mercedes (@CherylMercedes) June 13, 2013
15:17 GMT: Local CBS affiliate reports:

Workers waiting outside the entrance of Geismar plant. #watch9news#explosiontwitter.com/WAFB/status/34…

— WAFB (@WAFB) June 13, 2013
15:12 GMT: The area, 60 miles north of New Orleans, is home to a whole cluster of petrochemical plants, owned by giants Shell, BASF and others.
Source tells me nearby plants sheltering in place and local hospital alerted to expect patients. #GeismarExplosion

— Rob Krieger (@Rob_Krieger) June 13, 2013
15:10 GMT:  Update from a local news reporter:
Black smoke still billowing from area. @wbrz#GeismarExplosion twitter.com/Rob_Krieger/st…

— Rob Krieger (@Rob_Krieger) June 13, 2013
15:07 GMT:
Another view of fire at Williams Olefins plant in Geismar. twitter.com/stevecaparotta…

— Steve Caparotta (@stevecaparotta) June 13, 2013
15:00 GMT: Here is an amateur video of the fire, which appears to still be raging.
14:58 GMT: Numerous eyewitnesses on Twitter say police are telling locals to stay inside and shut windows.

I work kind of close to Geismar.... They're urging us to stay inside

— Cook Brady (@CookTheGreat) June 13, 2013