Massive explosion and fire at Louisiana chemical plant: 1 dead, at least 77 injured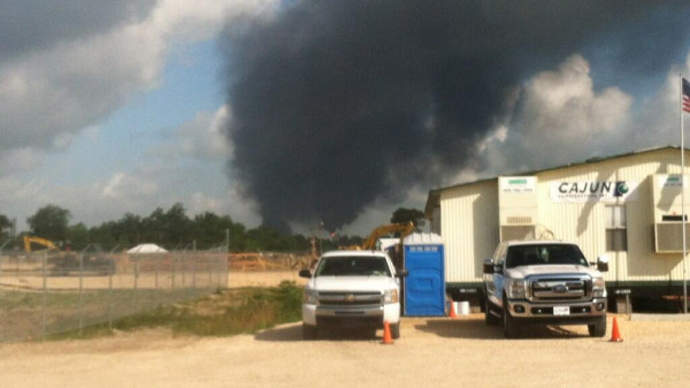 An enormous explosion shook a chemical plant in Geismer, Louisiana, just south of Baton Rouge on Wednesday. The blast was followed by a huge fire. 77 were injured in the explosion and subsequent fire. One fatality has been confirmed by police.
One person was confirmed dead by police shortly after the blaze was extinguished. Louisiana Governor Bobby Jindall has said that 77 people have been taken to hospital, with many having to be airlifted out of the burning facility with severe injuries.

A search for more possible victims is underway, Louisiana State Police Captain Doug Cain said.
Pic of explosion at Williams Olefins from Ryan Meador twitter.com/CherylMercedes…

— Cheryl Mercedes (@CherylMercedes) 13 июня 2013 г.

After the initial blast, clouds of thick black smoke could be seen billowing towards the sky, visible from a local school. Flames could be seen rising from two separate locations. Approximately 600 people were employed at the plant at the time of the explosion.
"It looked like a pretty big explosion – it looks like Williams have taken all the precautions they can do to evacuate all the personnel. The firefighters are responding as needed,"  witness Ryan Meador told local station 90 WAFB.
"Everyone evacuated to the road. Everyone is trained for something like this."

The blast, which began at 8:37 a.m local time was contained by 10:50 a.m., and the situation was reported stable.

Meador released witness footage of the blast's aftermath:

St. Gabriel residents are being told to take shelter from Highway 3115 to Highway 74 as a precautionary measure.
A man named Todd Stiles who worked half a mile away told the New Orleans-based Times-Picayune that he and his colleagues were instructed to either shelter in place or evacuate. He reportedly didn't hear the explosion as he was located in a blast-proof area, but told the paper that some people had seen a
'fireball in the air.'
Williams Olefins, which owned the plant, are involved in the production of plastics with clients in the petrochemicals industry. The facility annually produces approximately 1.3 billion lbs of ethylene and 90 million lbs of polymer grade propylene. Both are flammable

A previous incident at the plant was in February 2011, when a butadiene release was recorded. Butadiene is also flammable. No injuries were reported at that time.

New picture of #Geismar plant fire from Robby Taylor. twitter.com/stevecaparotta…

— Steve Caparotta (@stevecaparotta) June 13, 2013

The air quality in the area has started being monitored by the Louisiana Department of Environmental Quality and Environmental Protection Agency. They are currently unsure of the levels and specific chemicals that could be leaking into the atmosphere. "We're just in the very beginning of this." They told the Times-Picayune.

Other buildings in the area are reportedly being evacuated, and there are fears another explosion could happen and the fire is not fully under control. A nearby plant told the 90 WAFB channel that the major risk is butadiene spheres, in which crude budatiene is stored under pressure as a liquid.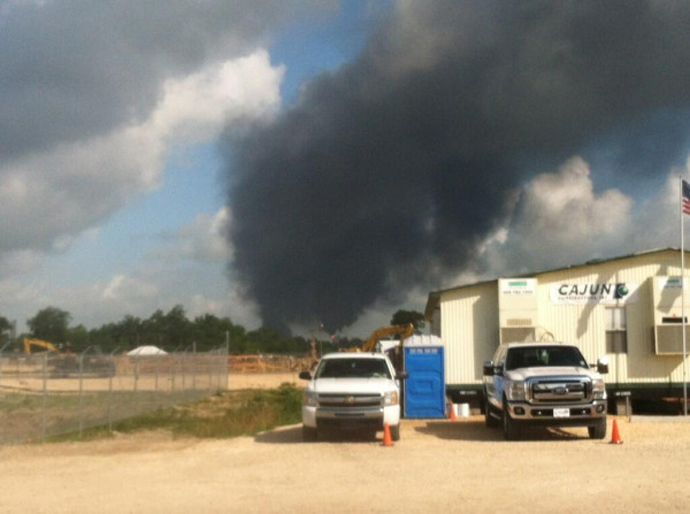 Another view of fire at Williams Olefins plant in Geismar. twitter.com/stevecaparotta…

— Steve Caparotta (@stevecaparotta) June 13, 2013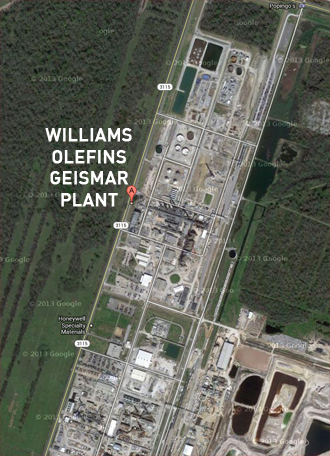 According to reports the most recent inspection at the Geismer plant took place a quarter of a century ago, and at the time management was fined for safety violations.

Publisher of the Trends Journal Gerald Celente says government agencies are too weak to enforce safety and maintenance regulations that are already in place.

"What you have is a tangle of agencies, both state and federal, without any teeth and without any will to enforce the regulations that should be enforced," says Celente.

Celente describes industry and government agencies responsible for industrial oversight as a "revolving door" of the same individuals.