TSA officer killed, several injured in shooting at LA airport
A lone gunman opened fire at Los Angeles International Airport in California early Friday, killing at least one person, injuring several more and prompting authorities to evacuate a major terminal at LAX.
At a press conference late Friday morning, officials confirmed that they had taken into custody a suspect believed to be responsible for a rampage that started around 9:20 a.m. local time.
The suspect has been identified as 23-year-old Paul Ciancia of Los Angeles, according to federal officials who spoke to NBC. The gunman was initially reported dead at the scene but multiple sources now say that he is in critical condition. 

TSA officials confirmed late Friday that a federal agent employed by the Transportation Security Administration, 39-year-old Gerardo I. Hernandez, was shot and killed during the ordeal.
During the press briefing, acting Los Angeles Fire Department Chief Jim Featherstone said seven people had been treated on the scene, six of whom had also been transported to an area hospital. Two people were shot and wounded and others hurt in the pandemonium. 
On Saturday, the FBI said they were looking into Ciancia's background and examining potential motives for the shooting.

Late on Friday, FBI agents armed conducted a search of Ciancia's home in the Los Angeles area, FBI spokeswoman Laura Eimiller said. He has been identified as a US citizen and is believed to have acted alone.

Law enforcement also visited the suspect's family home in Pennsville Township, New Jersey. Pennsville Police Chief Allen Cummings said he had been contacted by Ciancia's father before the shooting after his son sent a worrisome text message to his brother.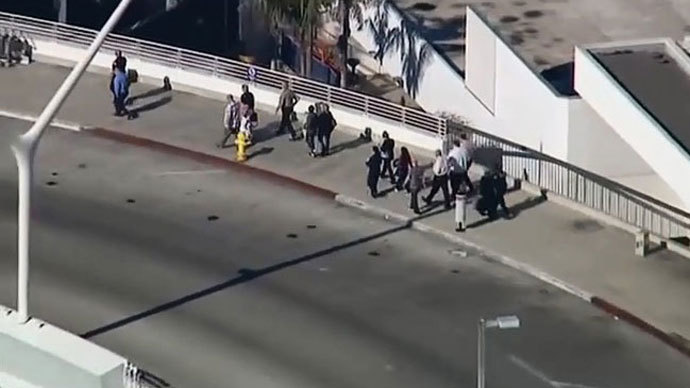 Large sections of the airport were initially locked down during and immediately after the shooting, and although a full security sweep was conducted on the premises, delays lingered throughout the day. By Friday afternoon, 133 flights had been canceled (68 departures and 65 arrivals) and another 293 flights delayed (139 arrivals and 154 departures), according to the travel monitoring site FlightStats.  
Los Angeles Airport Police Chief Patrick Gannon told reporters that the suspect entered terminal 3 and "Pulled an assault rifle out of a bag and began to open fire."
"He proceeded up into the screening area where TSA screeners are and continued shooting and went past the screeners back into the airport itself," Gannon said.
Eyewitnesses say they heard anywhere between eight and 30 shots when the incident unfolded.
Personnel officers from the Los Angeles Airport Police responded immediately, Gannon said, then tracked the individual through the airport and engaged in gunfire before taking him into custody.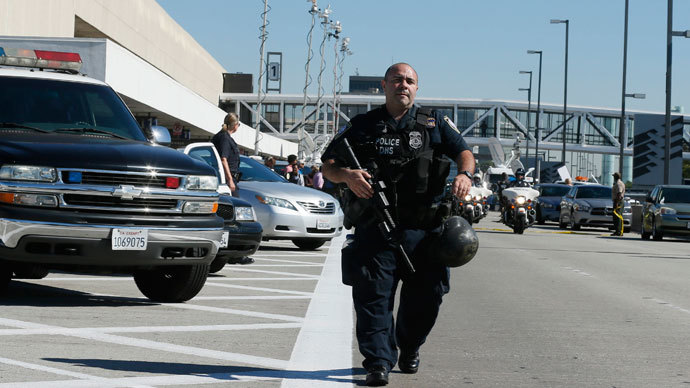 Travelers panicked as the first shots rang out, with those making it past the security gate rushing onto the tarmac or ducking into restaurants.  
"We just hit the desk. Everybody in the line hit the floor and shots just continued," Xavier Savant, who was waiting in the security line at the time, told AP. He described the sound of the shooting as "Bam! Bam! Bam!" 
Pete Williams of NBC News said Ciancia seemed to target TSA agents and that he may have had some connection with the agent who was killed. An American citizen, Ciancia was not reported to be classified as a potential threat on any watch list or state database.  
"We're told that he had strong anti-government views," Williams said. "That's based on some written material that we're told he was carrying, that they found on him after he was shot by LA airport police. So, it would seem to be a combination of anti-government views and some kind of grudge against the TSA." 
More witnesses have come forward to say the shooter was clearly targeting TSA workers. Leo Saryan of Greenfield, Wisconsin told WTMJ, a Milwaukee radio station, the gunman came right up to him in the midst of the chaos. 
"He looked at me and he said 'TSA?' and I shook my head and he just kept going," Saryan said.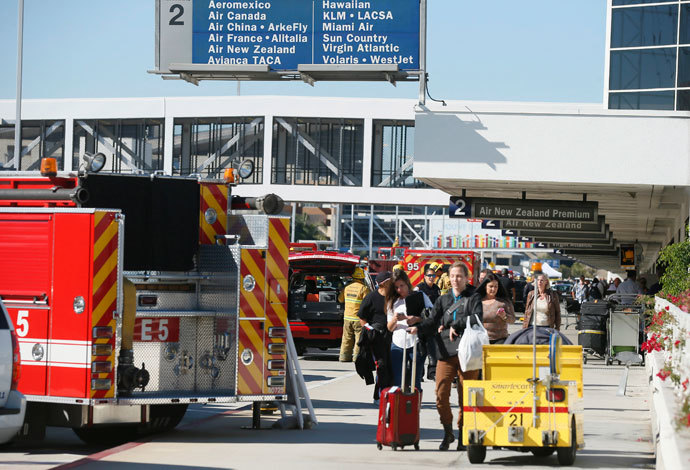 Los Angeles Mayor Eric Garcetti told reporters that the TSA agent fatally shot Friday was the first to be killed in the line of duty since the agency was created after the September 11 terrorist attacks. 
A police source told AP that Ciancia is from New Jersey and was carrying a bag with a hand-written note indicating he "wanted to kill TSA and pigs." 
Ciancia recently sent a text message to his brother in which he admitted he was considering committing suicide, according to NBC New York. 
Pennsville Police Chief Allen Cummings said someone from the Ciancia family previously sought police help locating Paul after receiving a text "in reference to him taking his own life." Cummings said he contacted the Los Angeles police and a car was sent to Ciancia's apartment on Thursday. The suspect's roommates reportedly said he seemed fine. 
CBS's John Miller initially reported that the suspected gunman was wearing camouflage clothing when he entered the area and may have been purposely targeting TSA workers. Preliminary reports suggested that the shooter may have been a disgruntled former TSA employee, but Chief Gannon told reporters that he could not confirm allegations that the suspect was a federal worker.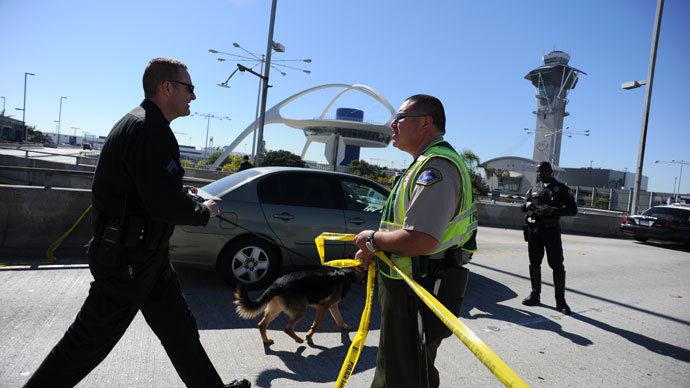 Fox Sports national columnist Bill Reiter was at LAX at the time of the incident and documented the ordeal in real time over Twitter shortly after he first heard shots being fired.
I was at the Virgin terminal at LAX when gunfire broke out. Many of us have run on the tarmac. I don't know what's happening but I'm fine.

— Bill Reiter (@foxsportsreiter) November 1, 2013
When gunfire broke out there was a stampede people, all of us hiding under seats we didn't fit under, we burst through the door to outside.
— Bill Reiter (@foxsportsreiter) November 1, 2013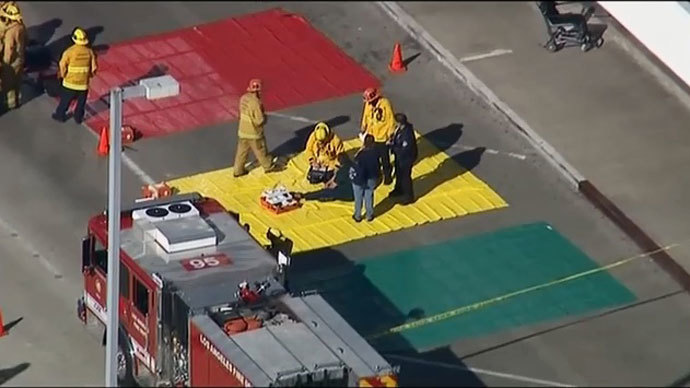 "We were just standing there and someone started shooting," eyewitness Nick Pugh told the NBC station from the scene. "I heard a total of maybe eight or 10 shots fired."
US President Obama told reporters Friday that he is worried about the news from Los Angeles and said the White House will continue to monitor the situation.
"We're concerned about it, but I'll let law enforcement folks talk about it directly," Obama said. 
LAX serves the second-largest metropolitan area in the United States and is the sixth-busiest airport in the world. 
Airport officials, in a press conference Friday evening, praised the emergency response teams and said they are slowly working to sort through the still-chaotic situation. Over 700 flights were affected, with 46 diverted elsewhere and LAX terminals opening as fast as possible. Terminal 3 will "shut down for a while" so investigators can examine Friday's events, but they did say flights will depart from terminal 3 by Saturday.  

Thank you for your patience during this horrible incident. Our prayers go out to all this affected. We're working hard to reopen terminals

— LAX Airport (@LAX_Official) November 1, 2013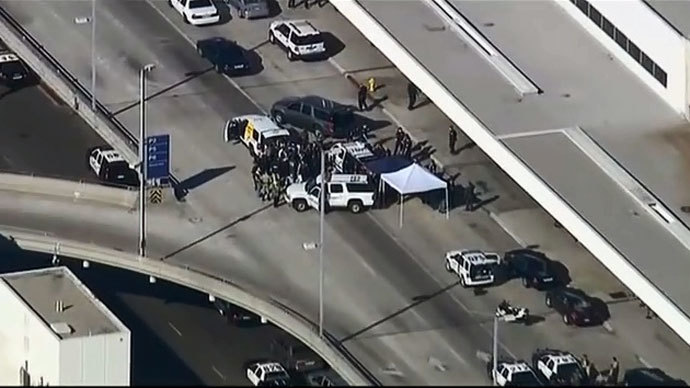 They just announced there's now a lost dog here. We are quickly becoming a small, dysfunctional city.

— Bill Reiter (@foxsportsreiter) November 1, 2013