California kid shooting: 13yo with replica assault rifle was shot 7 times in 10 seconds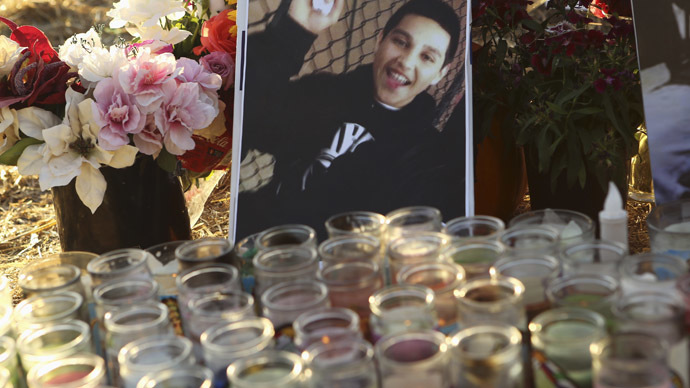 The shooting death of a 13-year-old California boy believed to be carrying an assault rifle unfolded in no more than 10 seconds, police said. Andy Lopez Cruz, who was later found to be carrying a plastic replica, was struck by seven bullets.
In that time, a total of eight rounds were fired by one of the two sheriff's deputies who confronted the teen, with two of the wounds – one in the right side of his chest and the second in his right hip – proving fatal.
Lt. Paul Henry, of the Santa Rosa Police Department, told the San Francisco Chronicle that Cruz was also shot in his right wrist, left biceps, right forearm, right buttocks and right hip.
It took another 16 seconds for the deputies to call for medical assistance, according to a timeline of events released by police investigating the fatal shooting in Santa Rosa on Tuesday, Reuters reports.
At approximately 3pm Tuesday, a 24-year-old deputy of the Sonoma County Sheriff's Office and a rookie deputy he was training spotted Andy, donning a blue hoodie and shorts, walking on Moorland Avenue with what they believed was an assault rifle in his left hand.
Police say the deputies – who have not yet been officially identified – got out of their squad car and took cover behind the open doors. The senior deputy twice shouted, "Put the gun down," before Cruz turned to his right, the Sheriff's Office said.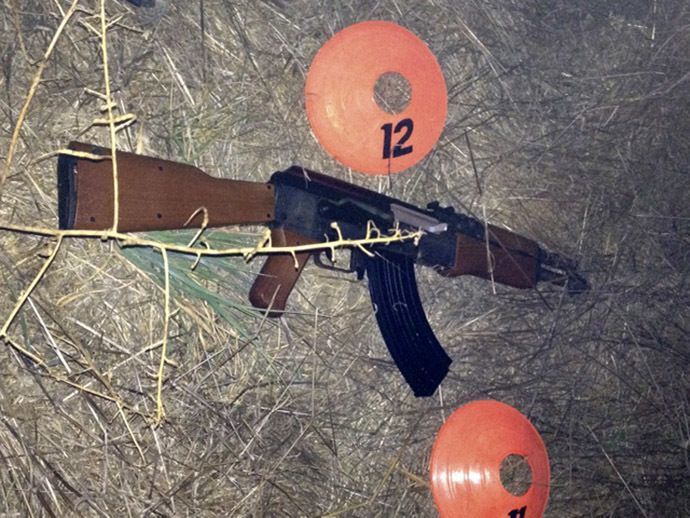 Police said the boy ignored two calls to put down the weapon, instead turning toward the senior deputy with the rifle barrel "rising up and turning in his direction." The deputy is then said to have opened fire out of fear for his life, being unable to tell whether his target was a child from where he was standing.
The eighth grader died at the scene. A toy handgun was also was found tucked in his pants.
The rookie deputy, who was hired last month, did not fire any shots, the Chronicle cites Assistant Sheriff Lorenzo Duenas as saying. That deputy had served 11 years with another police agency, said Duenas, who declined to identify that agency.
Four seconds after the shooting, the two officers radioed for assistance from other deputies. Another six seconds elapsed before they notified dispatchers that shots had been fired. Police had previously said the deputies called for backup the moment they noticed what appeared to be a military-style rifle.
The officers involved in the shooting have both been placed on administrative leave, in accordance in usual procedure in such cases. The incident is being investigated by the Santa Rosa Police Department and other law enforcement agencies.
The shooting has sparked outrage in the community and beyond, with Andy's family and friends accusing the deputy who opened fire of overreacting to a situation which did not require the use of deadly force.
The death has prompted calls in Santa Rosa for the creation of civilian review boards to examine such incidents.
"People have to do something," Elbert Howard, a founding member of the Police Accountability Clinic and Helpline of Sonoma County, told Reuters. "He's a child, and he had a toy. I see that as an overreaction to shoot him down."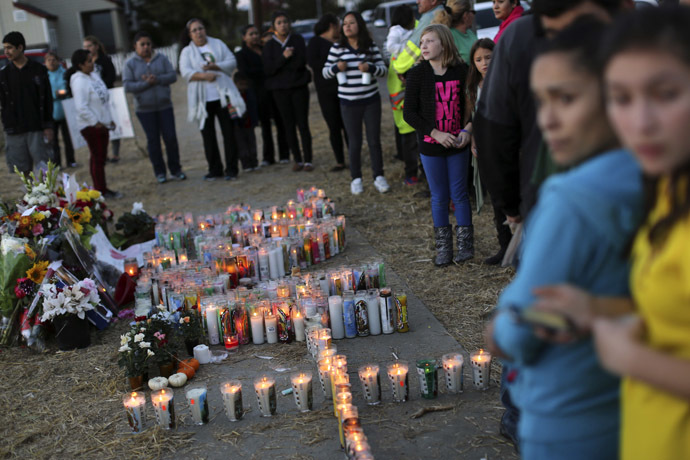 An advisory panel of the US Civil Rights Commission urged Sonoma County to create civilian-review boards in 2000 in the wake of eight fatal officer-involved shootings in less than three years. The panel's recommendation, however, was disregarded.
Up to 200 mourners gathered Thursday around a makeshift memorial consisting of flowers, balloons, teddy bears and pictures of the boy at the site of the shooting.
Some held candles and signs that said: "What a tragedy, what a travesty."
Friends and family have described Cruz as personable and well-liked in the neighborhood.
Residents say the diverse neighborhood does not have a particularly high rate of crime, with people feeling safe allowing their children to play in the streets.
"A lot of people say this is not a great neighborhood, but we've never had any problems," Sam Hin, a mother who works in human resources at a skilled nursing facility, told the Press Democrat. "It's our home. It's what we're used to."
But Shannon Peavler, an in-home support provider whose mother lives on Moorland Avenue, told the daily deputies "come into the neighborhood thinking it's a bad neighborhood, so they treat people that way."

You can share this story on social media: