Attorneys for shuttered email service Lavabit ask court to unseal case files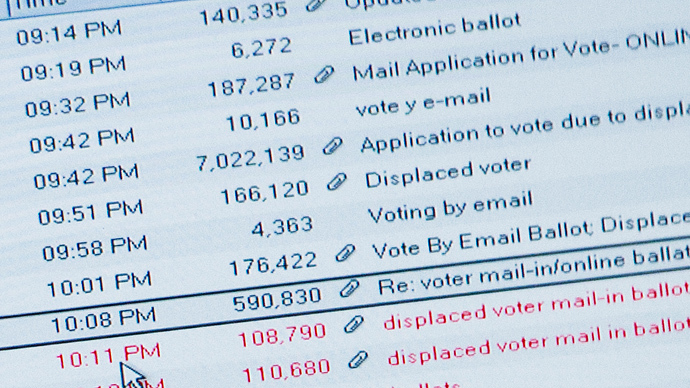 Attorneys for an encrypted email service provider that suddenly shut-down last month amid murmurings of potential government inference have asked a federal appeals court to unseal portions of their case that are currently being kept confidential.
When email service Lavabit went offline in early August, owner and operator Ladar Levison only alluded that his company was on the verge of being compromised due to a federal investigation.
"Our government can order us to do things that are morally and ethically wrong, order us to spy on other Americans and then order us — using the threat of imprisonment — to keep it all secret," he told RT at the time.
"We've already started preparing the paperwork needed to continue to fight for the Constitution in the Fourth Circuit Court of Appeals," Levison wrote on his company's website. "A favorable decision would allow me resurrect Lavabit as an American company."
And although Levison and his attorneys have been legally barred from even acknowledging that a case against Lavabit exists, legal counsel for the email service filed a motion on Tuesday requesting the government unseal court documents so that third-person parties curious about the case and file briefs in support of the appellants.

The motion, filed in the US Court of Appeals for the Fourth Circuit, asks the government to "unseal the case, or in the alternative, for a protective order to allow potential amici curiae to view documents currently under seal that are the basis for this appeal."
An Internet query for the case number listed on this week's motion yields a webpage that suggests the government formally began investigating Lavabit on July 16, 2013, and an appeal was entered on August 28.
"Several organizations and entities have expressed an interest in filing amicus briefs to help provide context and inform the legal issue on appeal, which will have wide-ranging implications for online service providers," the motion reads.
Amicus briefs, or statements filed by a "friend of the court," allow a case's docket to be augmented by the opinions of experts who wish to have their concerns and comments of the matter made available to the presiding judge.
Lavabit attorney Jesse Binnall writes in the motion that these briefs, "allow the court to examine the interests of other individuals outside the more personal interests of the parties involved in the underlying litigation, which is particularly important in a case raising far-reaching issues of public importance — such as this one"
"Public interest organizations and Internet service providers have spoken with counsel and expressed interest in participating in this appeal as amici based on details they have seen reported in the media. However, their ability to do so is hampered by the lack of availability of record," he continues.
"Since the underlying case is sealed, these potentially interested organizations have no access to the record below, which severely hinders if not completely negates their ability to file briefs that are likely to be helpful to the court in deciding this case," Binnall adds.
Currently, only attorneys for the appellate — presumably Lavabit — and the United States government are aware of the facts involved in the case. While Binnall's name appears on the request filed on Tuesday, the name of his client is redacted throughout.
POLITICO's Josh Gerstein was quick to point out that the docket information pertaining to the case reveals that the matter is being presided over by Judge Claude M. Hilton, the same justice who signed a warrant earlier this year ordering the arrest of National Security Agency leaker Edward Snowden. A statement that prefaced a July 12 press conference at Moscow's Sheremetyevo airport hosted by Snowden was sent to human rights workers from a Lavabit email account believed to be registered to the now notorious former NSA contractor who has since been granted asylum by Russia.
On Wednesday, the deputy clerk for the Fourth Circuit Court of Appeals said the government has until October 2 to respond to the appellant's request to have the case unsealed. Michael Scarcella of the Legal Times obtained the document, embedded below:
DOJ today given Oct. 2 deadline to reply to motion (http://t.co/lNsWmaAylm) to unseal docs in Lavabit case in 4th Cir http://t.co/rUyyY2dAqL

— Michael A. Scarcella (@MikeScarcella) September 25, 2013
You can share this story on social media: